Charles Robert Good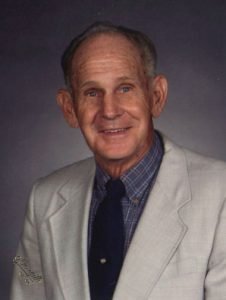 Funeral services for Charles Robert Good, 92, West Plains, Missouri, will be held at 2:00 p.m., Saturday, January 21, 2023, at First Baptist Church, under the direction of Robertson-Drago Funeral Home.  
Mr. Good passed away Tuesday, January 17, 2023, at his home.
He was born March 21, 1930, at West Plains, Missouri, to Elijah and Cora Goble Good.  He attended Pleasant View Schools and West Plains High School.  Mr. Good was a veteran, having served with the United States Marine Corps.  He entered the United States Marines on November 1, 1951, and received his basic training at San Diego, California.  He then transferred to Santa Ana, California, where he served for two years, and was promoted to Sergeant.  On July 27, 1958, he was married at West Plains, Missouri, to Nondes Napier.  They were married for sixty-four years.  Mr. Good worked in construction, farming with Good Brothers Farming, and he ran a sawmill with his brother, Paul.  He was a member of First Baptist Church of West Plains, where he served as a Sunday school teacher and a deacon for many years.  He enjoyed his church, growing a garden, and visiting with family and friends.
He is survived by his wife, Nondes, of the family home; two children, Randy Good, West Plains, Missouri, and Melody Temple and husband, Marvin, Nixa, Missouri; four grandchildren, Nikki Kelso and husband, Halston, Tulsa, Oklahoma, Tara Phelps and husband, Chris, Fayetteville, Arkansas, Mandi Howard and husband, Jeff, Branson, Missouri, and Brandon Barlow, Springfield, Missouri; three great-grandchildren, Baylor Howard, Marin Phelps, and Olivia Howard; three sisters, Evelyn Ousley, Faye Kaufmann and husband, Jack, and Rose Ann Riley and husband, Bob; three sisters-in-law, Jean Clemons, Bonnie Sullivant, and Erma Good; and several nieces and nephews.
His parents and two brothers, Ed Good and Paul Good, preceded him in death.
Visitation will be from 6:00 p.m. to 8:00 p.m., Friday, at Robertson-Drago Funeral Home.  Burial will be at Oak Lawn Cemetery.  Memorial contributions may be made to First Baptist Church or Gideon's and may be left at or mailed to Robertson-Drago Funeral Home, 211 West Main, West Plains, MO  65775.