Donald C. Herminghouse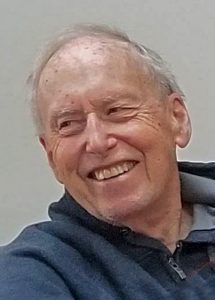 Funeral services for Donald (Don) C Herminghouse will be held at 2:00 p.m. on Monday, January 23, 2023, in the Rose Chapel at the Robertson-Drago Funeral Home, followed by a brief graveside ceremony at Barnett Cemetery. The family will receive visitors at the funeral home between 6 p.m. and 8 p.m. on Sunday, January 22.
Don was born on May 10, 1937, in West Plains, Missouri, to Clifford and Mabel Herminghouse, both of whom predeceased him, along with his infant sister Carolyn Faye. Don died at the age of 85 in his current home city of Rochester, New York, on Saturday, January 14, 2023. Don is survived by Patricia Herminghouse, his wife of 58 years, as well as his son Justin, of Garrison, New York, and daughter Shauna, of Wellington, New Zealand.
Don spent his childhood in West Plains on his parents' farm and attended West Plains High School, graduating in 1955. Later, following his military service, he attended Drury College in Springfield and Washington University in St. Louis, where he studied Engineering, ultimately receiving a Master's degree in Engineering Management from Missouri University of Science and Technology.  During Don's service in the United States Navy from 1961 to 1965, he met his future wife in Seville, Spain, when she picked him out of a crowd in a hotel lobby as someone who could help her as her roommate was experiencing a medical emergency. While in the Navy, he was stationed in Rota, Spain, but was also assigned to several other Mediterranean and North African countries, as well as Florida, and the aircraft carrier USS Roosevelt.  Don was known as a warm, caring, and charming man with an infectious smile and a wonderful sense of humor, supplemented by a strong and well-developed mischievous streak. In addition to his role as a loving husband, son, and father, he had an accomplished career working on things as varied as aircraft maintenance, the Mercury space program, control systems for Disney World, and industrial process design for a number of companies.  When Don was not at work, he indulged his passion for seeing the world, traveling to places as diverse as Scandinavia, Germany, Alaska, Mexico, Greece, China, and even Antarctica. He was also the consummate handyman, proudly and lovingly renovating a series of homes for his family.
In addition to traditional expressions of support and sympathy, the family also encourages those who knew Don to consider a donation to the Alzheimer' Association in honor and celebration of his exceptional life and time spent with all of us.  Donations may be left at or mailed to Robertson-Drago Funeral Home, 211 West Main, West Plains, MO  65775.