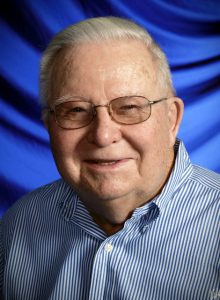 Funeral services for Charles Royce Fugate, Sr., 80, West Plains, Missouri, will be held at 2:00 p.m., Monday, July 25, 2016, at St. Mary's Catholic Church, West Plains, Missouri, under the direction of Robertson-Drago Funeral Home.
Mr. Fugate passed away on July 22, 2016, at his home in West Plains, Missouri, after a brief illness.  He was surrounded by his family.  Royce was born on August 13, 1935, in Pomona, Missouri, the only child of Charles "Ted" and Margaret Fugate.  He was raised both in Kansas City, Missouri and on the farm of his maternal grandparents, George and Marcella Eidson.  He attended St. Joseph grade school in White Church, where he first noticed his future spouse and partner in life, Rita.  Royce attended Rockhurst High School and Rockhurst College in Kansas City Missouri and received a Bachelor's Degree in Civil Engineering from the University of Kansas in 1959.  Two days after graduation, he began in Kansas City a 38-year career with the Missouri Department of Transportation, eventually holding the key positions of Division Engineer for Research, Development, and Technology; District Engineer for District 9 Willow Springs; Assistant District Engineer for District 4 Kansas City; and the first Value Engineering Administrator for the state.  On July 10, 1965, he married Rita Sharon Gilliam at St. Joseph Church in White Church.  His career took them to homes around the state (Jefferson City, Macon, Independence, Blue Springs, Willow Springs).  On April 6, 1967, they welcomed their son, Charles Jr., into their life.  In 1996 Royce "retired" to a second, 15-year career as City Administrator/City Engineer for the City of West Plains.  Under his direction, the city undertook numerous major accomplishments and upgrades, including: expansion of the wastewater treatment plant, new aquatic center and public library, additions to the West Plains Civic Center, construction/expansion of a new City Hall, a new central water treatment plant, and installation of two peaking power generators which provide essential and surplus power to the community.  Royce loved the City of West Plains and continued to be its promoter, champion, and friend after retiring in 2011. He served one term on the City Council.  Among his many professional and civic accomplishments:  membership and leadership roles in Missouri Society of Professional Engineers, National Society of Professional Engineers, American Society of Civil Engineers, Missouri Municipal League, Missouri Public Utility Alliance (recipient of Distinguished Service Award 2011), Rotary (West Plains, Willow Springs, Jefferson City), Advisory Committee for Ozarks Medical Center, and many more.  In 2005, Royce was appointed by the governor to the Missouri Board for Architects, Professional Engineers, Professional Land Surveyors, and Landscape Architects, where he served for eight years.  He was a mentor to countless people in engineering, civic work, leadership, and life.  In April of this year, he was inducted into the Missouri Society of Professional Engineers Hall of Fame.  Royce was a devoted lifelong Catholic and a current member of St. Mary's Parish in West Plains. He served on church councils in nearly every city in which he resided.  He was a Life Member of the Knights of Columbus, a charter member of Assembly 3196, a past Faithful Navigator in Fourth Degree and past Grand Knight.  He was an avid quail hunter, bird dog enthusiast, golfer, and KU fan.
He is preceded in death by his mother and father.
Survivors include his wife, Rita Fugate, West Plains; his son Charles Fugate and son-in-law Joseph O'Malley, of Overland Park, Kansas; as well as several brothers-in-law, sisters-in-law, nieces, and nephews.
The family will receive their friends from 6:00 until 8:00 p.m., Sunday in the Langston Street Chapel of Robertson-Drago Funeral Home.  A rosary service will be held at 5:30 p.m.  Burial will be in the Howell Memorial Park Cemetery.  Memorial contributions may be made to St. Joseph Church, White Church, Missouri; Knights of Columbus Assembly 3196, West Plains; Catholic Charities of Southern Missouri; or Ozarks Medical Center Foundation—The Cancer Fund and may be left at Robertson-Drago Funeral Home.