Chester Click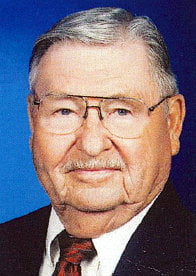 Chester (Chet) Lee Click of West Plains, Missouri passed from this life to reunite with his wife, family and friends in Heaven on Sunday, March 1, 2020, as the result of a severe stroke he suffered on February 12, 2020.  He was 93 years old. 
He was born on May 24, 1926 in Pomona, Missouri, the son of Albert Sidney and Sarah Elizabeth (Betty) Allen.  He received his elementary education in the Modrall School District near Pomona and graduated from Willow Springs High School with the Class of 1943.  He excelled in mathematics and music and was a Hall of Fame football player for the Willow Springs Bears.
In the fall of 1943, Chester moved with his family (mother, older sister and younger brother – his father had previously passed) to Kansas City.  He attended machinist school and then worked for North American Aviation helping to build bombers for the WWII war effort.  Two weeks before his 18th birthday in 1943, he enlisted in the United States Navy.  He served on a Landing Ship Medium (LSM 328) in the Pacific Theatre moving equipment to islands in the Pacific preparing for the anticipated invasion of Japan.  After the surrender of Japan, his ship was one of the first to enter Tokyo Bay.  He witnessed the formal surrender ceremony aboard the USS Missouri from the deck of his ship which was docked nearby.  He was honorably discharged from the United States Navy on April 18, 1946 as Petty Officer/Storekeeper 3rd class.
After his discharge from the United States Navy, Chester returned to the family farm near Pomona where he met the love of his life on a neighboring farm whose family had recently moved to the area from northern Missouri.  After a brief courtship, he married Norma Joyce Lattimer on September 14, 1946 in Gainesville, Missouri.  They had been married one month shy of 70 years when she passed away on August 23, 2016.  They had two sons, James (Jim) and Randall.
After his return from the U.S. Navy, he worked briefly for the Coca-Cola Bottling Company and the Kellett Studebaker Agency.  Having finished a correspondence course in accounting/bookkeeping from LaSalle University in Chicago, Illinois, he accepted a position at Richards Brothers in West Plains in November of 1946 as a bookkeeper.  He remained there until his retirement on December 31, 1987.  During this time he was named manager of Richards Brothers and eventually became part owner of the store.  In 1984, he was appointed to the Board of Directors for the West Plains Saving & Loan Association and served as Chairman for a number of years until his retirement from the Board in 2014 after 30 years of service.  He was a lifetime member of the John T. Kirk VFW Post 1828.  He was baptized in 1939 and was a member of the Antioch Christian Church until he joined the First Christian Church of West Plains in 1952.   He served in many capacities at the First Christian Church as Deacon, Elder and Chairman of the Board.  In 2013 he was named Elder Emeritus.
Chester and Joyce loved to travel and traveled throughout the United States both before and after their retirement.  They thoroughly enjoyed their trip to Hawaii except for the jet lag.  They enjoyed all sports, especially football and The Kansas City Chiefs and were avid St. Louis Cardinals fans as well as supporting the local Zizzers and Grizzlies. They also enjoyed spending time with family, extended family and friends.  They lived all of their married life in West Plains.
Chester was a loving husband, father, special father-in-law, grandfather, great-grandfather and great-great-grandfather.  He will be missed, but knowing that he is no longer in pain or suffering from the debilitating stroke, provides comfort to his family and friends.
He was preceded in death by his parents, Sidney and Betty, his wife, Joyce, three brothers, Sidney, Clarence and Hershel, two sisters Pauline Ogle and Esma Brown and several nieces and nephews.
He is survived by his two sons, James Lynn Click and wife, Linda Lasswell Click, of Bloomington, Illinois and Randall Lee Click and wife, Shirley Williams Click, of Monett, Missouri; four granddaughters, Wendy Lucke and Michael Barnes, of New Orleans, Louisiana, Sarah Bollman, and husband Matthew, of East Peoria, Illinois, Stephanie Carlson and husband, Greg, of Olathe, Kansas and Angela Click of Bloomington, Illinois; five great-granddaughters Sierra Golubski and husband, Jon , Kaitlyn Lucke and fiancé, Kyle McCallister, Taylor Lucke and friend, Nick Barnett, Madelyn Carlson and Eloise Bollman; one great-grandson, Tyler Carlson; three great-great-granddaughters, Aaliyah, Lakelynn, and Emberly Golubski; one great-great-grandson, Maverick Barnett; one brother, Samuel Click and wife, Jo Ann, of West Plains; and several nieces and nephews.
Cremation rites and other arrangements are under the direction of Robertson-Drago Funeral Home.  Inurnment will be held on Saturday, March 7, 2020 at 12:00 p.m. at Mackey Cemetery east of Pomona on N Highway.  Military rites will be accorded.  A Celebration of Life service will be held at the First Christian Church in West Plains on Saturday, March 7, 2020 at 2:00 p.m. with Pastor Rick Rutledge presiding.  The family will greet friends after the service at First Christian Church.
In lieu of flowers, the family suggests a donation be made to the First Christian Church of West Plains, Mackey Cemetery or any charity of choice. 
A heartfelt thank you is extended to his primary care doctor, nurses and staff for their ongoing care, the doctors, nurses, aides and staff at Ozark Medical Center for the immediate care Chester received after his stroke and during his stay at the hospital and to the doctors nurses, aides and staff at the West Vue Nursing Home for the continuing care he received until his passing.