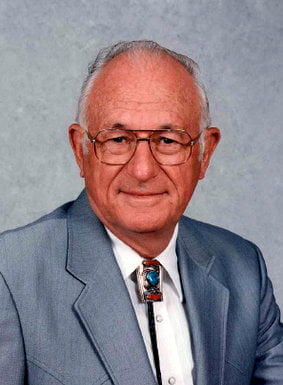 Funeral services for Clifford Allen Mumert, 91, West Plains, Missouri, will be held at 10:00 a.m., Friday, January 30, 2015 in the Rose Chapel at Robertson-Drago Funeral Home.
Mr. Mumert died 10:31 a.m., Monday, January 26, 2015 at Ozarks Medical Center.
He was born October 1, 1923 at Wakeeney, Kansas to Thomas Mumert and Effie Marts Mumert. He received his education at the Pleasant Ridge School in Pottowatomie County, Kansas near Havensville and graduated from Havensville High School. On June 27, 1948, Mr. Mumert was married at Havensville, Kansas to Audrey Kolterman. Mr. Mumert was a veteran having served with the United States Navy during World War II. He served on the Merchant Marine Ship S.S. Richard W. Dixie and the U.S. S. Rawlins and received the European African Middle Eastern Campaign Medal, Asiatic Pacific Campaign Medal, Victory Medal, and the American Campaign Medal. After serving with the Navy, Mr. Mumert returned home and worked for Neale Construction Company in Topeka, Kansas from 1947 to 1955. In 1955, the family moved to Rover, Missouri and then to West Plains when Mr. Mumert went to work for Western Light & Telephone Company from 1956 to 1978. During that time, he was construction foreman, equipment repairman and local manager. Also, he and his wife, Audrey, owned and operated Audrey's Antiques & Gifts from 1967 to 2004.
For many years, Mr. Mumert served on the Board, was a Sunday School teacher, Sunday School Superintendent and church treasurer while attending Rover Assembly, Rover, Missouri and First Assembly, West Plains, Missouri. While a member at First Assembly, he organized the first Royal Ranger group for young boys at the church and also served as Commander of the Group. While Mr. Mumert attended Faith Assembly of West Plains, he served on the Board.
He loved God, was a devoted husband, father, grandfather and great-grandfather; he enjoyed traveling, collecting and people.
He is survived by his wife, Audrey Mumert, West Plains, Missouri; three children, Linda Moss, husband, Roy, Pottersville, Missouri, Stephen Mumert, wife, Phyllis, Springfield, Missouri and Roger Mumert, wife, Karen, Sherwood, Arkansas; seven grandchildren, Allen Moss, wife, Elisha, Charles Moss, wife, Suzette, Diana Moss, Michael Mumert, wife, Nikki, David Mumert, Jeniffer Jefferson, husband, Kris and Jessica Purvis, husband, Chris; thirteen great-grandchildren; one sister, Anna Mae Brown, husband, Fred, Topeka, Kansas; and many nieces and nephews.
His parents, three brothers, one sister, two sisters-in-law and two brothers-in-law, precede him in death.
Visitation will be from 6:00 until 7:00 p.m., Thursday at Robertson-Drago Funeral Home. Burial will be in the Oak Lawn Cemetery.