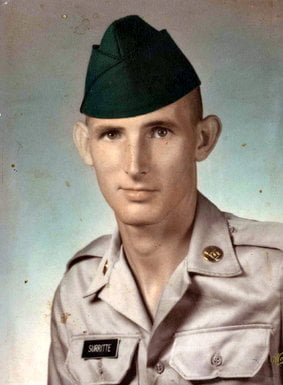 Funeral services for David "Glen" Surritte, 67, West Plains, Missouri, will be held at 2:00 p.m., Friday, January 30, 2015 in the Rose Chapel at Robertson-Drago Funeral Home.
Mr. Surritte died 8:10 a.m., Saturday, January 24, 2015 at his home.
He was born January 8, 1948 at Cureall, Missouri to David Woodrow Surritte and Magdalene "Maggie" Collins Surritte. He was a veteran having served with the United States Army for twenty-five years. Before his retirement, Mr. Surritte was employed with the Sanitation Department for the City of West Plains. He liked to junk and enjoyed hunting and fishing. Mr. Surritte was of the Baptist faith.
He is survived by three children, Christina Adelsberger, husband. Tom, Kimberly Surritte and R. L. Kocher, all of West Plains; six grandchildren, Corey Adelsberger, Cody Adelsberger, Corina Adelsberger, McKenzie Surritte, Abbigail Beck and Bella Beck; one brother, Doyle Surritte, wife, Linda, West Plains; two sisters, Rosa Mae Anderson, West Plains and Alice Coats, husband, Bill, Peace Valley, Missouri; sister-in-law, Carolyn Surritte; brother-in-law, Ray Shunk; and many nieces and nephews.
His parents, one brother, Donald Surritte, one sister, Barbara Shunk, brother-in-law, Donald Anderson and one niece, Amanda Lynch, precede him in death.
Visitation will be from 7:00 until 8:00 p.m., Thursday, at Robertson-Drago Funeral Home. Burial will be in the Pottersville Cemetery. Memorial contributions may be made to the Pottersville Cemetery or the Arthritis Foundation and left at Robertson-Drago Funeral Home.