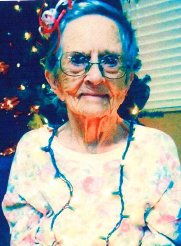 Mildred Edith Parrish, 95, West Plains, Missouri, died 10:20 a.m., Friday, January 23, 2015 at NHC Health Care.
Mrs. Parrish was born February 24, 1919 at Dalton, Arkansas to James Thomas Aspray and Selia White Aspray. She graduated with honors from the Ravenden Springs, Arkansas high school in 1938.  On July 24, 1943, she was married at Ravenden Springs, Arkansas to James William Parrish who preceded her in death on March 27, 1980. In 1948, Mrs. Parrish, along with her family, moved to West Plains where she resided until her death.  She was baptized in the Assembly of God Church in 1979 by Brother Holcomb.
She is survived by two sons, Glen Parrish, wife, Nancy, Rogersville, Missouri and Douglas Parrish, wife, Carol, West Plains, Missouri; six grandchildren, Kelly Parrish, Dana Hall, Stacy Whiteside, Whitney Adams, Amy Green and Zachary Parrish; five great-grandchildren, Samuel and Andrew Hall,  Hayden and Daegan Green and Annetta Overstreet; four great-great grandchildren, Kelton and Reese Adams and Alessa and Maci Overstreet; and one nephew. Steve Wammack.
Her parents, husband, one son, James Parrish and one sister, Reva Wammack, precede her in death.
In accordance with Mildred's wishes, there will be no funeral service.
Arrangements under direction of Robertson-Drago Funeral Home.