Connie D. Hall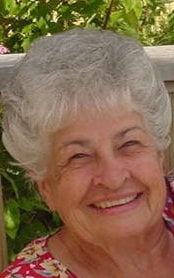 Connie D. Hall, 94, Alton, Missouri, formerly of Springdale, Arkansas, passed away at West Plains, Missouri on December 27, 2021.
Connie was born January 20, 1927 at Wilcox, Arizona, to Roy and Florence Spencer.  She grew up and lived in the Wilcox area until she married in 1943 to Gaston Teel.  Connie and Gaston lived in Tucson, Arizona and had four children together (Leon, Wayne, Ruth Ann, and Millie).  Gaston passed away in 1961.  She wed Charles H. Hall Jr. in 1963 and moved to El Rio, California where they were happily married for 17 years until his death in 1980.  Connie was a homemaker for many years, and after her children were grown she held jobs outside the home as well.  She was a shuttle bus driver for Northrup Aerospace in Thousand Oaks, California. When she relocated to Springdale, Arkansas in 1987, she worked for Wal-Mart and Sam's Club in Fayetteville, Arkansas, demoing food. While at Sam`s Club, she became known as the "Orange Lady" by her customers even after her retirement. Connie loved people.  She enjoyed bowling, camping, fishing, crossword puzzles, gardening, crocheting, and spending time with her family. Connie was a "Born Again Christian" and was a member of Christian Life Cathedral of Fayetteville, Arkansas for over thirty years.
She is survived by her daughter Millie and son-in-law, Danny Gray, Alton, Missouri; two brothers, Meryl Spencer and wife, Margie, Phoenix, Arizona, and Marvin Spencer, Phoenix, Arizona; one daughter-in-law, Hedy Teel, Ventura, California; thirteen grandchildren, Daniel, Jennifer, Tonya, Tracy, Charles, Corey, Brian, Chris, Tyler, Lacey, Chris S., David, and Gary; thirteen great-grandchildren, Grace, Tatum, Marlie, Justin, Jared, Chance, Charlie, Jaxon, Camron, Madison, Alisa, Zach, and David Jr.; and two great-great-grandchildren, Daisey and Leila.
Connie was preceded in death by her parents Roy and Florence Spencer, two husbands Gaston Teel and Charles H. Hall, Jr., two sons, Roy Leon Teel and Wayne Teel, one daughter, Ruth Ann McCaslin-Spotten, two sons-in-law, Lee McCaslin and Bill Spotten, one grandson, David Teel, and one niece, Sandy Spencer.
A "Celebration of Life" will be announced at a later date.