D. T. Chamberlain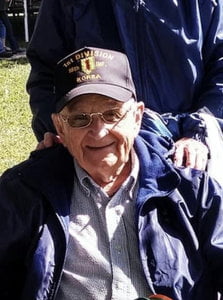 Graveside services for D. T. Chamberlain, 93, West Plains, Missouri, will be held at 2:00 p.m., Wednesday, January 20, 2021 at Howell Memorial Park Cemetery, under the direction of Robertson-Drago Funeral Home.
Mr. Chamberlain passed away at 4:02 a.m., Friday, January 15, 2021, at NHC HealthCare.
He was born September 14, 1927, at Pomona, Missouri, to Herbert L. Chamberlain and Sadie Clinton Rainer Chamberlain.  D.T. graduated from Willow Springs High School.  On September 23, 1955, he was married at Tupelo, Mississippi, to Alice Brazeal.  Mr. Chamberlain was a veteran, having served with the United States Army.  He worked as a livestock dealer; buying and selling hogs at the West Plains City Scales for over fifty years. D.T. loved to farm and spent his spare time on the family's farm raising cattle, hogs and chickens. He was the owner of Chamberlain Auto Sales as well as a real estate agent for Laurin Realty. D.T. was very active in the West Plains community, serving many years on the Board of Wood and Huston Bank, MFA Oil, The Missouri Pork Producers and acted as the Secretary of The Farm Bureau for a time as well. He was an avid supporter and delivery man for his wife's Avon business, spending over fifty years delivering Avon products.  He looked forward to summertime where he would drive to the boot hill to purchase truckloads of peaches to deliver to his friends in the West Plains community. He loved to socialize and never met a stranger, no matter where he was. He always had a smile on his face and a story to tell. Mr. Chamberlain was of the Assembly of God faith.
He is survived by his wife, Alice Chamberlain, of the family home; three children, Danny Chamberlain and wife, Nancy, Springfield, Missouri, Danna Nelson and husband, Tony, Central City, Iowa and Diana Haeffner, West Plains; five grandchildren, Shannon Kiefer and husband, Chris, Brandon Chamberlain, Joshua Cannon and wife, Samantha, Zachary Haeffner and special friend, Sherri and Jordan Cannon and wife, Mary; six great-grandchildren, Gracie Watson, Logan Watson, Harmony Haeffner, Cade Kiefer, Nash Cannon and Brynlee Cannon; and one sister-in-law, Ruby Veon, Red Oak, Iowa.
His parents, mother-in-law and father-in-law, Cleo and Roy Brazeal, three sisters-in-law, Violet, Barbara and Letha and four brothers-in-law, Harry, Cliff, Michael and Lane, preceded him in death.
Mr. Chamberlain will lie in state from 5:00 until 8:00 p.m., Tuesday, at Robertson-Drago Funeral Home.  Memorial contributions may be made to St. Jude's Children's Research Hospital or Alzheimer's Association and may be left at or mailed to Robertson-Drago Funeral Home, 211 West Main, West Plains, MO  65775.