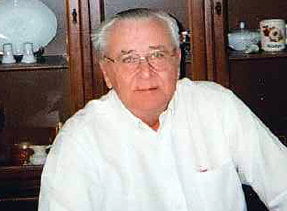 A graveside service will be held at a later date for Donald Creed Shertz, 77, West Plains, Missouri at the White Oak Cemetery, Rogersville, Missouri.
Mr. Shertz died at 6:14 p.m., Saturday, January 10, 2015, at West Vue Nursing Center, West Plains, Missouri.
He was born August 15, 1937, at Fordland, Missouri, to William Creed Shertz and Gladys Pauline Pursley Shertz. He was the oldest of five children. In 1957, he was married at Coffeeville, Kansas, to Sharon Joseph and to this union one child was born, Michael Creed Shertz. He was married at Fordland, Missouri, to Linda Waters and raised two step-children. On April 18, 2003, he was married at Rogersville, Missouri, to Debra Bradshaw. The couple moved to West Plains in October, 2006. Mr. Shertz was a veteran, having served in the United States Army National Guard for thirty-two years. He worked at an oil refinery in Coffeeville, Kansas for nineteen years, owned and operated a Honda motorcycle shop in Kansas, was a sales representative for an insurance company, managed MFA exchange, managed Buckeye Gas Product Company and many other jobs throughout the years. While living in Rogersville, Missouri, he was a bass singer in a gospel quartet, "The Ambassadors" and traveled to many churches singing around the area. Don was a devoted Christian and attended Olde Tyme Full Gospel Church in West Plains, Missouri until his health failed.
He is survived by his wife, Debra Shertz, of the family home; one son, Michael Creed Shertz and wife Sherry, Peoria, Arizona; one granddaughter, Jayde, Peoria, Arizona; four step-children, Kevin Waters, wife, Renee, Branson, Missouri, Kathryn Waters Ballard, husband, Shane, Ozark, Missouri, Travis Bradshaw, Cabool, Missouri and Jeremy Bradshaw, Koshkonong, Missouri; one brother, Richard Shertz, wife, Yolanda, West Plains, Missouri; two sisters, Dixie Spragg, husband, Gary, Rogersville, Missouri and Kathy Wright, husband, Gary, Springfield, Missouri; one sister-in-law, Jean Shertz; and several nieces and nephews.
His parents and one brother, Charles Shertz, precede him in death.
Memorial contributions may be made to Alzheimer's Association or the family, and may be left at or mailed to Robertson-Drago Funeral Home, 211 West Main, West Plains, MO 65775.