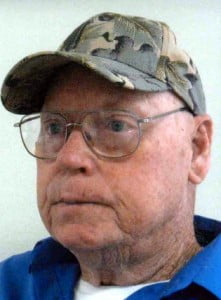 Memorial services for Donald Gene Womack, 80, West Plains, Missouri, will be held at 1:00 p.m., Friday, April 3, 2015 at the Langston Street Chapel, Robertson-Drago Funeral Home.
Mr. Womack died 10:05 a.m., Friday, March 27, 2015 at his home. He was born October 19, 1934 in Ozark County, Missouri to Homer Preston Womack and Eyonia Jewell Copuas Womack.  On September 3, 1953, Mr. Womack was married at Maplewood, Missouri to Lee Ellen Mansfield.  He was a veteran having served with the United States Army Airborne.  Mr. Womack was employed with the Mississippi Valley Steel Construction Company of Maplewood, Missouri and in 1982, the family moved to West Plains, Missouri and started a dairy farm, milking cows for ten years. He enjoyed hunting and fishing, loved his horses, enjoyed riding and pulling buggies and was an award winning fiddle player.  Mr. Womack was a life member of the Am Vets Post 98 and a member of the Elks, both of West Plains, Missouri.  He was a member and Deacon of the Center Grove Baptist Church, Moody, Missouri.
He is survived by his wife, Lee Womack, of the family home; four children, Debbie Chinnici, husband, Roger, Rock Hill, Missouri, Vikki Womack, West Plains, Missouri, Donna Hofstein, St. Charles, Missouri and Craig Womack, wife, Sheryl, Panama City, Florida; ten grandchildren, Jennifer Ray, husband, Jim, Karrie Altermatt, Andrew Chinnici, Julie Drumright, husband, Craig, Melissa Palmer, husband, Tige, David Chinnici, Melanie Parker, husband, Shane, Jennifer Kennedy, husband, James, Jason Hofstein, wife, Erica, and Halla Chinnici; one sister, Wanda Burgess, West Plains, Missouri; many nieces and nephews; and many, many friends.
His parents, seven sisters, two brothers and his father-in-law and mother-in-law, Frank and Alta Mansfield, precede him in death.
Memorial contributions may be made to Charity of Choice and left at Robertson-Drago Funeral Home.