Doris Luraney Patillo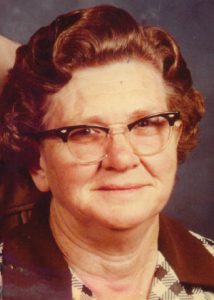 Graveside services for Doris Luraney Patillo, 98, West Plains, Missouri, will be held at 10:00 a.m., Saturday, November 13, 2021 at Fowler Cemetery, under the direction of Robertson-Drago Funeral Home.  
Mrs. Patillo passed away at 2:26 p.m., Tuesday, November 9, 2021, at Ozarks Healthcare.
She was born September 19, 1923, at Sycamore, Ozark County, Missouri, to Samuel Huston Hunt and Esta Purvania Bushong Hunt.  On December 24, 1940, she was married at Willow Springs, Missouri, to Eugene Hayden Patillo, who preceded her in death July 8, 2011.  Doris was brought to Caulfield, Missouri, by her parents in 1924, when the area was known as Brady, Missouri.  Her father, Samuel Hunt, and his brother, Rob Hunt, started Hunt Brothers Store.  A post office was established in 1929.  Samuel was commissioned Postmaster, and the area became known as Caulfield, named after the governor, Henry Stewart Caulfield.  Doris's father remained in the grocery store and post office for twenty-one years.  In 1944 and 1945, while Doris's husband was serving in the United States Army during World War II, she worked in her brother, Terry Bradford Hunt's general grocery in Galena, Missouri.  She returned to Caulfield where she and her husband bought the store, and it became Patillo Grocery.  In 1954, Eugene was appointed Postmaster.  On August 15, 1953, Doris took an oath of office, and for the next twenty-seven years she actively finished her career in the Patillo Grocery, service station, and post office.  She also helped on the family beef cattle farm.
She is survived by one son, Billy Gene Patillo and wife, Patsy Ruth Bell Patillo, West Plains, Missouri; one daughter-in-law, Randee Carol Smith Patillo, Willard, Missouri; three grandchildren, Richard Gene Patillo and wife, Amy Rachel Hensley Patillo, Verona, Missouri, Chris Allan Patillo and wife, Joanna Rachel Bogle Patillo, West Plains, Missouri, and Douglas Wayne Patillo and wife, Christina Kay Grabber Patillo, Willard, Missouri; one granddaughter-in-law, Jennifer Yvette Reid Patillo, Willard, Missouri; ten great-grandchildren, Boston Gene and Adeline Marlee Patillo, Verona, Missouri, Kaley Jo and Hattie Jean Patillo, West Plains, Missouri, Jackson Hunter Patillo and wife, Bailey Meagan Kram Patillo, Colorado Springs, Colorado, Brody Scott Patillo, Santa Barbara, California, Savanna McCall Patillo, Chadley Olivia Patillo, Ariana Nicole Patillo, and Megan Grace Patillo, all of Willard, Missouri; and several nieces and nephews who were very near and dear.
She is preceded in death by her parents, husband, Eugene (born at Dawt, Missouri, August 29, 1920, died July 8, 2011), two brothers, Teddy Bradford Hunt (born October 22, 1900, died April 22, 1962), and Lewis Benton Hunt (born January 1, 1914, died February 16, 1959), one son, Jackie Don (born October 12, 1948, died April 25, 2014), and one grandson, David Bryan Patillo (born August 24, 1968, died August 8, 2021).
Memorial contributions may be made to Fowler Cemetery and may be left at or mailed to Robertson-Drago Funeral Home, 211 West Main, West Plains, MO  65775.