Dale Driskell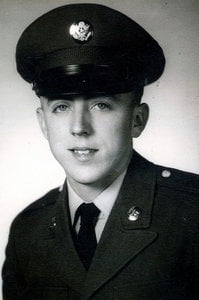 Graveside services for Dale Driskell, 75, West Plains, Missouri, will be held at 2:00 p.m., Monday, November 15, 2021 at Howell Memorial Park Cemetery, under the direction of Robertson-Drago Funeral Home.  
Mr. Driskell passed away at 2:00 p.m., Tuesday, November 9, 2021, at his home in his sleep, as he wished.  
He was born October 16, 1946, at Dora, Missouri, to Virl and Lola May Driskell.  On March 24, 1969, he was married at Emerson, Iowa, to Nancy Haines and to their union two children, were born, Trent in 1973 and Cheri in 1974.  Dale was raised in and around the Dora and West Plains, Missouri areas.  He served with the United States Army from 1973 until 1975.  Mr. Driskell held several jobs through the years, such as farming, truck driving, gas station attendant and lastly retired after twenty years of service at Eaton Transmission, Shenandoah, Iowa in 2000.  In 2004 he moved back to West Plains with his family.  Dale enjoyed fishing, hunting and riding his Harley, trike and 4-wheeler until his health started failing him. 
He is survived by his wife of fifty-two years, Nancy, of the family home; two children, Trent Driskell, West Plains, Missouri and Cheri Huffmaster and husband, Danny, Mammoth Spring, Arkansas; two granddaughters, Melanie and Annie; two brothers, David Driskell, Olden, Missouri and Larry Driskell, Tecumseh, Nebraska; five sisters, Arlean Szynskie, Tabor, Iowa, Irene Garrett, West Plains, Missouri, Eulah Marie Johnson, State of Illinois; Lucy Bjorgaard, West Plains, Missouri and Linda Bloomquist, Maryville, Missouri; and numerous nieces, nephews, great-nieces and great-nephews. 
His parents, two infant brothers, one brother, Junior Driskell and two sisters, Joyce Ahrens and Thelma Lanam, preceded him in death.  
Memorial contributions may be made to West Plains Regional Animal Shelter and may be left at or mailed to Robertson-Drago Funeral Home, 211 West Main, West Plains, MO  65775.