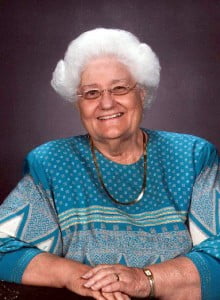 Funeral services for Dorotha LaGene Reavis, 84, West Plains, Missouri will be held at 10:00 a.m., Tuesday, June 23, 2014 at the First Baptist Church of West Plains under the direction of Robertson-Drago Funeral Home.
Dorotha passed quietly into the arms of the Lord at 1:37 p.m., Friday, June 19, 2015 at West Vue Nursing Center. She was born June 23, 1930 at Strawberry, Arkansas to Estes Lee Newberry and Velma House Newberry; the family moving to West Plains in 1936. As a young adult, Dorotha accepted Jesus Christ as her Savior and faithfully served the First Baptist Church as a Sunday School teacher, church historian and records keeper.
Dorotha eloped and on March 5, 1948 married her high school sweetheart, Edward Lee "Harry" Reavis, who preceded her in death on October 4, 1999.
She is survived by many cousins, special friends, David and Sandy Evans and family, Susie Whitsell, Beverly Richardson, and niece, Brenda Reavis, as well as a large "adopted" family of co-workers, church members and others blessed by her kindness.
She is preceded in death by her parents, her husband, her daughters, Cheryl Reavis and Patricia Reavis, her infant son, Jackie Lynn Reavis and her brothers-in-law, Charles and Frank Reavis.
After graduating from West Plains High School, Dorotha began her professional career at age 16 working as a secretary for the school. She later worked several years with her father and then her husband as a welder at Newberry Welding. As a female working as a welder, Dorotha was proud to have earned the respect of many local farmers and mechanics for her welding skills. In 1958, she began her life's career working in law enforcement and later with the courts. She began as a secretary for the West Plains Police Department and over the years, worked as a part time dispatcher, jailer, police matron, full time meter maid and eventually, as full time municipal court clerk for the City of West Plains. Dorotha continued her education becoming a certified court administrator in Missouri.
In 1998, she became the Chief Clerk for Divisions II and III of the Howell County Circuit Court where she worked until her retirement in 2012 at the age of 82. At her retirement, she was presented the "key" to the City of West Plains and was recognized by the Missouri Supreme Court for her dedicated and outstanding service to the judiciary system.
Dorotha is well known locally as a Howell County and West Plains historian and genealogist, and is author of Pictorial History of Howell County. She also wrote numerous articles for the Gazette, helped in preserving historical records, regularly gave local West Plains historical bus tours and repeatedly spoke to groups and classes about Ozark history.
Over her lifetime, Dorotha willingly volunteered in her community extending a hand of friendship and fellowship to anyone in need. She assumed many different volunteer duties including serving as a Red Cross community volunteer and supervisor for travelers' aid and itinerant funds. She also helped organize and served as a Regent for the local Daughters of the American Revolution, volunteered at the Old Time Music Festival and Haunting in the Hollows and was a long time Grizzly Booster and supporter of Missouri State University.
Dorotha will be deeply missed by her many friends and family. She will always be remembered by her beautiful smile, her integrity and her unwavering faith.
Mrs. Reavis will lie in state from 5:00 until 9:00 p.m., Monday, June 22nd at Robertson-Drago Funeral Home.
Visitation will be held from 9:00 a.m., until service time at the First Baptist Church, Tuesday, June 23rd. Burial will be at the Oak Lawn Cemetery. Memorial contributions may be made to the First Baptist Church, Missouri State University Grizzly Athletics or American Diabetes Association and left at Robertson-Drago Funeral Home.