Dr. C. Franklin Smith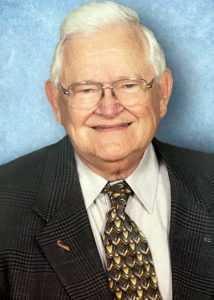 Dr. C. Franklin Smith, 86, West Plains, Missouri, passed away at 8:40 a.m., Sunday, September 20, 2020, at Cox Medical Center South, Springfield, Missouri.
Claude Franklin Smith was born on March 19, 1934 in Fremont, Missouri, the fifth son of Leonard and Leetia (Hall) Smith. He grew up on the family farm where there was no running water or electricity until his high school years. He graduated as Valedictorian from Fremont High School in 1952 in a graduating class of 10 people. He attended the University of Missouri from 1952-1956, graduating with a B.A. in Chemistry and attended the University of Missouri Medical School from 1956-1960 where he graduated with a Doctorate of Medicine. He married Peggy Maupin Smith in 1954 after proposing to her during her senior year of high school. Frank and Peggy were introduced by Peggy's mother, Della and Frank's sister-in-law, Jean. To this union 6 children were born. Frank entered the service and served in the Army Medical Corps from 1960-1964 after which he moved his family to Willow Springs, Missouri to begin practicing medicine as a G.P. with Dr. Miller. When Dr. Miller retired, Dr. Smith assumed the practice. During his 47-year career, he delivered over 3,500 babies, worked as a general surgeon and served the wide rural area around Willow Springs. Dr. Smith would often be on-call 24-hours daily, seeing patients after hours in his clinic as needed and making house calls. He even once made a house call 90 miles away in Springfield, Missouri! A local West Plains nursing home, Brook Haven, named a wing in his honor and in Willow Springs a ball field bears his name. He also served as Medical Director at Willow Care Nursing Home. He had many community connections: Willow Springs Rotary Club, Willow Springs Masonic Lodge, 32nd Degree Mason, Long-Time School Board President at Willow Springs, Team Doctor for the Willow Springs Football Team, Shriner with Abou Ben Adhem Shrine Mosque. Through his career in medicine and his community involvement, he was able to share in family moments in a unique way: he handed his daughter Becky her nursing cap, he delivered two of his children and many of his grandchildren. Following the death of his first wife, Frank married long-time friend Dorothy Treaster Smith on April 30, 2005. They had 15 years of marriage together and Frank often told of the joy she brought to his later years, having never exchanged a harsh word during their time together. He was a compassionate and caring individual with a kind-heart and a patient soul. Frank was a quiet man of faith leading by example first to his younger brother and then of course to his children. He even preached at a couple of churches as a part of the M.U. Wesley Foundation while in college. Frank loved to play hymns on the piano and sing, as well as playing many other instruments including: dulcimer, accordion, harmonica and banjo. He enjoyed playing golf and watching sports. He was a craftsman enjoying woodworking, string art and stained glass art as well. He enjoyed traveling, taking his family on many exciting vacations beginning with his own children, a station wagon and a pop-up trailer. He also went to Hawaii, Spain, Germany, Cancun, Thailand, Ireland and on an Alaskan cruise. He was even a pilot and flew a small airplane. He also had a motorboat and enjoyed time on the water with his family.
He is survived by his wife, Dorothy; five children, Angela Smith, Becky Dilks and husband, Bob, Nancy Lovan and husband, Martin, Lee Smith and wife, Mary, and Lance Smith and wife, Sandy; eleven grandchildren, Nathan Smith, Oliver Dilks, Rachael Dilks, Richard Smith, Emily Pipes, Austin Lovan, Thomas Smith, Lauren DiSalvo, Jared Lovan, Lacey Hoorman and Landen Smith; and five great-grandchildren, Mason, Ryan, Lillian, Rosalee and Remington; and one brother, Owen Smith and wife, Carol.
He is preceded in death by his parents, his first wife of forty-nine years, Peggy Smith, his daughter, Hollis Smith and four brothers.
He will be greatly missed by all who knew him.
Dr. Smith will lie in state from 10:00 a.m., until 12:00 Noon, Saturday, October 3, 2020 at the Langston Chapel of Robertson Drago Funeral Home; all are welcome to attend in celebration of Dr. C. Franklin Smith's life. A private family graveside service will be at Howell Memorial Park Cemetery. Pastor David Lovan will officiate the ceremony. Memorial contributions can be sent to one of his favorite charities, Navajo School Foundation,15695 S CR 210 Altus, OK 73521 and may be left at or mailed to Robertson-Drago Funeral Home, 211 West Main, West Plains, MO  65775.