Helen Maxine York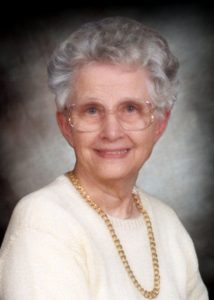 Graveside services for Helen Maxine York, 92, West Plains, Missouri, will be held at 2:00 p.m., Sunday, October 4, 2020 at Howell Memorial Park Cemetery, under the direction of Robertson-Drago Funeral Home.
Mrs. York passed away at 8:30 a.m., Thursday, October 1, 2020, at NHC Healthcare, with her husband, Fred, at her side.
Helen Maxine Flottman was born June 10, 1928 in Blackwell, Oklahoma. She graduated from Arkansas City Kansas High School in 1945. She worked at Kanotex refinery as a switchboard operator and stenographer until she married Fred York on March 5, 1947.  After living in Kansas, California, Louisiana and South America, they moved to Missouri in 1970.  Helen was of Northern Baptist Faith.
She is survived by her husband, Fred York; three children, Linda York Greer and husband, Dorance, Rock Hill, South Carolina, Gary York and wife, Regina, West Plains, Missouri and Amy Iven and husband, Dean, St. Charles, Missouri; eight grandchildren; and ten great-grandchildren.
Helen's parents, Jack and Estelle Flottman, preceded her in death in 1967.