Earl Crofford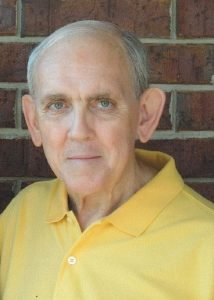 Funeral services for Earl Monroe Crofford, Jr., 74, West Plains, Missouri, will be held at 2:00 p.m., Monday, February 10, 2020 at First Baptist Church, under the direction of Robertson-Drago Funeral Home.
Mr. Crofford passed away peacefully at 8:00 a.m., Wednesday, February 5, 2020 at his home.
He was born May 29, 1945, at Newport, Arkansas, to Earl and Dorothy Pauline Lewis Crofford.  Earl grew up in Newport and lived for a time in Oak Dale, Louisiana, moving with his father's job at MOPAC Railroad.  He graduated from Newport High School, with the Class of 1963.  He loved playing tennis, football, basketball and track, representing the Newport Greyhounds.  Earl attended Arkansas State University at Jonesboro, Arkansas before joining the United States Navy in 1967.  While in the Navy, he married Patricia Ann Crumpton, also of Newport, on November 18, 1967.  Earl was stationed for three years at the United States Naval Air Station, Meridian, Mississippi.  In 1970, Earl and pat were transferred to the Norfolk Naval Station, Virginia.  While at sea he was aboard the USS Wasp (CV-18) and the USS Intrepid (CV/CVA/CVS-11) and completed his tour in April of 1971 with an Honorable Discharge.  Following his tour in the Navy, Earl moved to Jonesboro then to Batesville, where he received his Bachelor's Degree in Business and Economics.  He began his business career as the Employment Manager at Waterloo Industries, Pocahontas, Arkansas.  Earl later worked as Traffic manager at Waterloo until he went on to work as the Director of Employee Relations for the City Water and Light, Jonesboro, Arkansas.  In 1981 Earl and Pat moved to Jennings, Louisiana, where Earl worked for LeeVac Shipyard.  He loved his job there as Personnel Manager.  The State of Louisiana, the friendly people, the culture and the great good became a perfect home for the Crofford's.  When the oil industry began moving downward, Earl knew this was going to affect the ship building trade, so in 1984, he moved to West Plains and began working at Marathon Electric (later known as Regal) and was the Personnel Manager.  The Crofford's felt like West Plains was home, it was the same size and friendliness as their hometown of Newport.  They enrolled their children in Fairview School where they quickly made lifetime friends with students and faculty.  Earl began to learn his new job and became a member of the community and a Zizzer supporter.  Early in Earl's college career, he had planned to get a teaching degree, but as he studied he began to learn toward a business career.  1987 saw the change toward his original love of teaching began to happen.  He became the marketing education coordinator for the South Central Area Vocational – Technical Center, where he wore many hats, including working with the students, employers, speaking before civic and industrial groups, counseled and advised students.   Earl went back to college at University of Missouri, Columbia and received his MED-Practical Arts and Vocational-Technical Education and began marketing.  While Earl was teaching, he also was the Zizzer boys' tennis coach.  Many happy times were spent teaching young men to play and have a passion for the game.  Ann Burtrum was the bus driver for the Zizzer Tennis Team; Earl always told her that she was the good luck charm for the team – she drove and they won!  He also made many educational trips fun for the DECA students, such as trips to Dallas to see "market", where they saw products being sold, processes of sales to shops and markups.  Education was very important to Earl; his motto was "Is it good for the students?"  He truly cared about each one of his students and how he could help them develop in the young minds a passion for education which would result in the creation of lifelong learners.  Earl was a busy guy, he also worked at Mountain Grove, OMTC, MSU and Mountain View teaching business, economics, micro and macro and business marketing, all of which he tried to make fun for his students so that they could understand, learn and succeed.  In Earl's lifetime of working he also served and volunteered on many organizations, some included are Northeast Arkansas Safety Council, Missouri Vocational Association, American Vocational Association, Missouri State Teacher's Association, Mountain Grove Chamber of Commerce, and United Way.  Earl gave his life to Jesus as a young man; he and his family attended Church and became members wherever they lived.  While in West Plains they were members of First Christian Church and currently First Baptist Church.  He served in many ways, including serving on boards, Deacon, Elder and Youth Group Leader.  He and his wife, Pat, were kindergarten Sunday School Teachers for many years.  Parkinson's and dementia began to take control of Earl's body in 2008, the year he retired.  Earl never forgot his years in the classroom; he spent many days and nights with Pat talking about his former students.  It was always a joy when any student would visit; his eyes would light up and the joy was obvious.  Tennis, golf, fishing and hunting were a few of the hobbies he loved, but being with family was the most important.  He loved his family and enjoyed being with them.  Earl was a loving son, husband, father, granddaddy and great-granddaddy.
He is survived by his wife of fifty-two years, Pat Crofford; two children, Steve Crofford and wife, Carrie and Amy Cunningham and husband, Scott; four grandchildren, Haley, Kyley, Carter and Hudson Cunningham; two great-grandchildren, Gabe and Astrid Perez; sister-in-law, Myrna Sarzotti and husband, Tony; two cousins, Carol Bowden and husband, Cookie and Bill Lewis and wife, Donna; three special nieces and nephew, Rob Crumpton, Lynn Crumpton and Sandy Lightner; and many special family members and friends..
His parents, brother-in-law and sister-in-law, Bob and Martha Crumpton and one nephew, Bill Crumpton, preceded him in death.
Visitation will be held from 6:00 until 8:00 p.m., Sunday, at Robertson-Drago Funeral Home.  Burial will be in the Oak Lawn Cemetery.  Memorial contributions may be made to The American Cancer Society and may be left at Robertson-Drago Funeral Home.