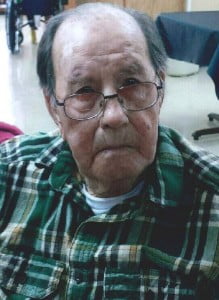 Funeral services for Elbert A. "Eb" Young, 91, West Plains, Missouri, will be held at 10:00 a.m., Saturday, August 22, 2015, in the Rose Chapel at Robertson-Drago Funeral Home.
Mr. Young died at 10:35 a.m., Monday, August 17, 2015, at West Vue Nursing Center.
He was born October 5, 1923, at Trail, Missouri, to Rueben Young and Nina Trail Young.  On November 4, 1945, he was married at West Plains, to Vanna "Iretta" Hicks, who preceded him in death on October 1, 2002.  On June 27, 2005, he was married at Salem, Arkansas, to Nancy Jane Hodge Driskell, who preceded him in death on March 13, 2014.  Mr. Young was employed at Cloud Oak Flooring Company for eighteen years, was a machinist for Invensys, formerly known as Eaton Corporation, for seventeen years until his retirement on August 8, 1997.  After retirement, Mr. Young worked at Brooke Haven Health Care for seven and a half years and part time at Invensys.  He enjoyed hunting and fishing.  Mr. Young was a member of Junction Hill Pentecostal Church.
He is survived by three children, Rita Stephens, husband, Dick, West Plains, Missouri, Linda Ross, husband, Howard, Kansas City, Missouri and Carolyn Rumple, husband, Stephen, Sr., Peace Valley, Missouri; six step-children; six grandchildren, Tommy Stephens, wife, Roberta, Scott Stephens, wife, Jerri, Matthew Stephens, wife, Jenny, Angela Crites, husband, Joe, Theresa Braswell, husband, Courtney and Marva Shelley, husband, Mike; fifteen great-grandchildren; thirteen great-great-grandchildren; two brothers, Jesse Young, wife, Mildred, West Plains, Missouri and Les Young, Springfield, Missouri; one sister, Bessie Warren, husband, Don, Tallahassee, Florida; and several nieces and nephews.
His parents, wives, one son, Eddie Ray Young, two great-grandchildren, five brothers and three sisters, precede him in death.
Visitation will be held from 6:00 until 8:00 p.m. Friday at Robertson-Drago Funeral Home.  Burial will be in the Oak Lawn Cemetery.  Memorial Contributions may be made to the family and may be left at Robertson-Drago Funeral Home.