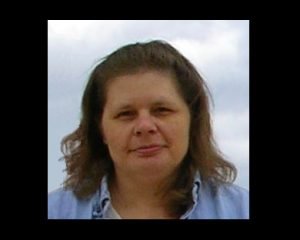 A visitation service will be held from 5:00 until 7:00 p.m., Friday, January 20, 2017, in the Langston Street Chapel of Robertson-Drago Funeral Home for family members and close friends of Emily Ann Eagans Parks, 58, West Plains, Missouri.
Emily Ann Eagans Parks, has passed on from this place but leaves behind a great many sweet memories and works of  her hand which will certainly carry on the love she held for her family and close friends.  Emily was very loyal to those she cared for and was definitely the person you'd want by your side during times of trouble as her support was limitless. Whether you needed a homemade batch of monster cookies or a phone call, she did so with compassion and sometimes even a little sass.  She seldom enjoyed the spotlight, often using her talents and hard-earned skills to express herself. Her children could testify to the amount of time she spent working on these many crafting hobbies throughout their childhood. Anyone who received something from her could testify to the great love that went into it.  In every season of life, Emily was devoted to serving others, always quick to extend herself to the aid of another. In her youth, she took great responsibility in helping to raise herself and her siblings through some difficult situations. As a young adult, her early years were spent working in a nursing home before spending the next 25 years at an assisted living facility where she cared for many adults with special needs. As a wife and mother, her priority was to always maintain a healthy home atmosphere. Warm meals cooked every night, extracurricular activities always attended, and friends always welcome to take over the house. Her final season was perhaps the best. She was able to travel more, start new hobbies, and enjoy the slower pace of life. She enjoyed the freedom of having successfully sent her children off into adulthood and quickly welcomed grandchildren into the continually growing family. Spoiling those grandbabies was always the highlight of her days.   Emily was truly one of a kind and will be greatly missed.
She is survived by her husband, Wesley Parks; her children Robert Parks, Kansas City, Missouri, Christopher Parks, St Charles, Missouri, Michelle Dewitt, Clever, Missouri and Melissa Alsup, West Plains, Missouri; her sisters, Patti Mason, Auburn, Nebraska and Marsha Eagans, Tarkio, Missouri; her brothers Jim Eagans and Harold Eagans both of Rockport, Missouri and Johnny Eagans, Fairfax, Missouri; and numerous cousins, aunts, and uncles.   She was a proud grandmother to Caleb Dewitt, Avery Dewitt, Ophilia Dewitt, Orion Dewitt, Magnus Parks, Melina Parks, Elizabeth Alsup, Norah Alsup and Adeline Alsup.
She is preceded in death by her parents Ermine Eagans and Dorothy Eagans, one sister Sharon Kincannon and one brother Marvin Eagans.
Memorial contributions may be made to the American Cancer Society and may be left at Robertson-Drago Funeral Home.