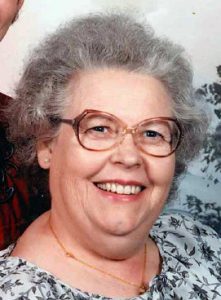 Funeral services for Thelma Mae Pyne, 89, West Plains, Missouri, will be held at 2:00 p.m., Monday, January 16, 2017 at the Church Of Jesus Christ Of Latter Day Saints under the direction of Robertson-Drago Funeral Home.
Mrs. Pyne passed away at 7:30 a.m., Saturday, January 14, 2017 at NHC HealthCare.
She was born January 21, 1927 at Nampa, Idaho to William O. Skinner and Mary Davis Skinner.  She was married to Charles Weaver who preceded her in death in July of 1982 and was later married to William Pyne.  Before her retirement, she was a LPN.  Mrs. Pyne enjoyed cooking, crocheting and served as a senior companion in Idaho.  She was a member of the Church of Jesus Christ of Latter Day Saints.
She is survived by three children, Anthony Weaver and wife, Reba, West Plains, Missouri, Kenneth Kirk, State of Texas and Victoria Bonville and husband, Lenny, Norfolk, Virginia; seven grandchildren, Andrew Weaver and wife, Cassie, A. J. Weaver and wife, Kayla, Kenneth Foster and wife, Tyana, and Justin Foster and wife, Tawnya, all of West Plains, Missouri, Venus Masoner and husband, Mark, McCook, Nebraska, Crystal Carlson and husband, Terry, Norfolk, Virginia and Leeann Chiplaski and husband, Gregg, Newcook, Nebraska; and several great-grandchildren and great-great-grandchildren.
Her parents and husbands precede her in death.
Visitation will be from 6:00 until 8:00 p.m., Sunday, January 15th, at Robertson-Drago Funeral Home.   Burial will be in the Cloverdale Memorial Park, Boise, Idaho.