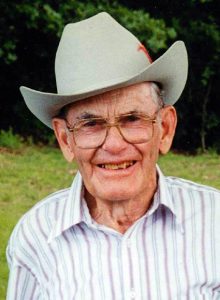 Funeral services for Flay Mahan, 96, Pottersville, Missouri, will be held at 2:00 p.m., Tuesday, May 31, 2016 at the Langston Street Chapel of Robertson-Drago Funeral Home.
Mr. Mahan passed away at 5:50 p.m., Friday, May 27, 2016 at NHC Healthcare.
He was born December 31, 1919, at Pontiac, Missouri, to Marion Henry Mahan and Emma Livesay Mahan.  He attended school through 8th grade at Pontiac, Missouri and was raised on a farm on Little North Fork where his family farmed and raised cattle.  On September 23, 1948, he was married at Sturkie, Arkansas, to Grace Francis Eagleman, who preceded him in death on July 25, 2011.  He and his wife lived on the family farm near Bakersfield, Missouri, where they raised their family.  Mr. Mahan was a veteran, having served with the United States Army during World War II in Germany with the 6th Calvary.  He was a member of the Church of Christ and attended the Prairie grove Church of Christ.
He is survived by five sons, Darrell Mahan and wife, Bonnie, Pottersville, Missouri, Glen Mahan and wife, Elizabeth, Derby, Kansas, Mike Mahan and wife, Debbie, Bakersfield, Missouri, Danny Mahan, Strafford, Missouri and Garold Mahan and wife, Susan, Macon, Missouri; thirteen grandchildren, Scott Mahan and wife, Katie, Kyle Mahan and wife, Elizabeth, Brian Mahan and wife, Sarah, Sarah Martello and husband, Ralph, Michael Mahan and wife, Tracy, Lisa Bean and husband, Bobby, Luke Mahan and wife, Erin, Joshua Mahan, Beth Edwards and husband, Rob, Brittney Mahan, Courtney Mahan, Sydney Mahan, Delaney Mahan; and sixteen great-grandchildren.
His parents, wife, one brother, Alvin Cecil Mahan, one great-grandson, Jaxon Mahan, one half-brother, Calvin Mahan, two half-sisters, Delia Herd and Josie Wray, precede him in death.
Visitation will be from 6:00 until 7:00 p.m., Monday, at the Langston Street Chapel of Robertson-Drago Funeral Home. Burial will be in the Free Union Cemetery.  Memorial contributions may be made to Free Union Cemetery and may be left at Robertson-Drago Funeral Home.