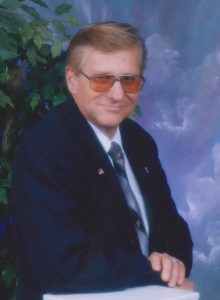 A Homecoming Celebration of Life for Raymond Willis Salisbury, 75, West Plains, Missouri, will be held at 2:00 p.m., Tuesday, May 31, 2016 at Victory Family Worship Center.
Mr. Salisbury passed away at 7:36 p.m., Thursday, May 26, 2016 at West Vue Nursing Center.
He was born February 22, 1941, at Abington, Pennsylvania, to Raymond Bryan Salisbury and Lillian Elizabeth Parsons Salisbury.  On October 14, 1961, he was married at Shrewsbury, New Jersey, to Lois Patterson.  Mr. Salisbury was a veteran, having served with the United States Army.  He was an Assembly of God Pastor, Music Minister, Master Builder, charter and school bus driver and voluntary chaplain at Ozarks Medical Center.  Mr. Salisbury was a loving husband and father; he loved his family.  He was a hard worker, always providing for his family and was always willing to help others.  He introduced himself as "Hi, I'm Ray, like a ray of sunshine".  Mr. Salisbury had a love of music and enjoyed playing trombone and singing; he especially enjoyed times spent traveling and singing with his family.  He was a member of Victory Family Worship Center.
He is survived by his wife, Lois Salisbury, of the family home; three children, Nathan Ray Salisbury and wife, Dorothy, West Plains; Linda Salisbury, McKinney, Texas and Joanne Burnley and husband, James, Winchester, Kentucky; two sisters, Bethel Juillerat and Marie Alberti-Thomson and husband, Bill, all of Springfield, Missouri; and many nieces and nephews.
His parents, one son, Stephen Paul Salisbury, one grandson, Lam-Moriah, one brother, Donald and four sisters, Esther, Retha, Grace and Janice, precede him in death.
Memorial contributions may be made to West Plains Senior Center or Alzheimer's Association and may be left at Robertson-Drago Funeral Home.