Fred Thomas York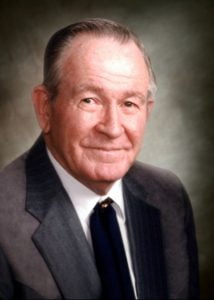 Graveside services for Fred Thomas York, 94, West Plains, Missouri, will be held at 2:00 p.m., Sunday, October 25, 2020 at Howell Memorial Park Cemetery, under the direction of Robertson-Drago Funeral Home.
Mr. York passed away Monday morning, October 19, 2020 at Progress West Hospital, O'Fallon, Missouri.
He was born August 5, 1926 in Sherman, Texas to James Maurice "Marney" and Margaret York. They moved to New Mexico, where his brothers and sister were born in following years. He was the oldest of four children. At 17 years of age and during World War II, Fred joined the United States Navy. He was an electrician aboard the USS Cummings destroyer. During this time, his ship escorted President Franklin D. Roosevelt to Alaska for a historic meeting with world leaders and then served as the backdrop for the President's national broadcast at the Puget Sound Naval Shipyard. In the following months, the USS Cummings returned to battle and was near Iwo Jima as the war ended. Fred was discharged after the war on March 9th, 1946.  On March 5, 1947, he was married in Arkansas City, Kansas, to Helen Flottman. Fred began his civilian life by using his electrical and mechanical skills to repair and build, which led him to large construction projects. He enjoyed teaching others and lived many places including Kansas, California, Louisiana and South America. Fred and Helen moved their family to Missouri in 1970 with the purchase of a farm in Pomona. Fred's unique work with raising feeder pigs led him to earning the Missouri Farm Family of the Year Award in 1974. In 1977, Fred worked with son Gary to build the Glass Sword Theatre, calculating down to the exact block on the materials they needed. Fred was also a 7th degree Mason.  Fred and Helen were married 73 years until Helen's recent death on October 1st.
He is survived by his three children, Linda York Greer and husband Dorance, Rock Hill, South Carolina, Gary York and wife, Regina, West Plains, Missouri and Amy Iven and husband, Dean, Saint Charles, Missouri; as well as eight grandchildren; and ten great-grandchildren.