Wilfred Rieck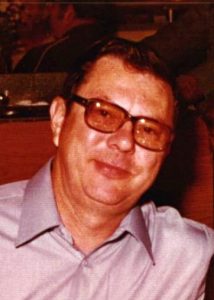 Graveside services for Wilfred Rieck, 90, West Plains, Missouri, will be held at 1:00 p.m., Saturday, October 24, 2020 at Howell Memorial Park Cemetery under the direction of Robertson-Drago Funeral Home.
Mr. Rieck passed away October 5, 2020 at West Vue Green House Homes.   
Wilfred was born in West Plains on December 28, 1929 to Frank and Lena Rieck. His grandparents were immigrants who came from Germany to Birch Tree, Missouri in the 1880's. He attended school in West Plains, graduating West Plains High School with the Class of 1947.  Wilfred was married in 1948 to Lorene Castle in West Plains, they had four children, Sherry, Steve, Cindy and Chris.
He began working early in life, first for a time at the Model Drug Store, then for Padgett Hardware in 1945. He worked as the store manager for Padgett's for 26 years. During this time he also enjoyed flipping commercial and residential properties. After leaving the Padgetts in 1980 he began his own business, Rieck's Water Works, selling hardware and plumbing supplies and working as a Master Plumber and Master Electrician.  For many years he spent winters in the warm sunshine of Patzcuaro, Michoacon, Mexico. He was a long time member of the First Baptist Church in West Plains faithfully attending the Emmaus Sunday School Class of Charles Phelps. 
He is survived by his wife, Velma Mustion Rieck, of West Vue Green House Homes; four children, Sherry Doty, Portland, Oregon, Steve Rieck (Glenda) Springfield, Missouri, Cindy Jones, Springfield, Missouri and Chris Talbott (Brad) Nashville, Tennessee; six grandchildren; and three great-grandchildren; and one sister, Betty Mannbeck ( Don) of St Charles, Missouri.
He is preceeded in death by his parents, one brother Frank Rieck, Jr, two sisters, Mary Carver and Ruth Butterfield and one step-son, Gary Mustion.
Memorial contributions may be made to St. Jude's Children's Research Hospital and may be left at or mailed to Robertson-Drago Funeral Home, 211 West Main, West Plains, MO  65775.