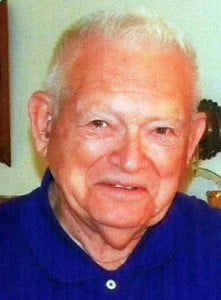 Graveside services for Gerald Avery "Pappy" Coffman, 89, West Plains, Missouri, will be held at 10:00 a.m., Thursday, December 24, 2015 at Howell Memorial Park Cemetery, under the direction of Robertson-Drago Funeral Home.
Mr. Coffman's life with God began at 3:43 p.m., Monday, December 21, 2015 at Ozarks Medical Center.
He was born June 24, 1926, at Richmond, Missouri, to Fletcher Martin Coffman and Geneva Ella Jones Coffman.  Mr. Coffman was a veteran, having served with the United States Army during World War II in the 42nd Infantry Rainbow Division.  In May, 1948, he was married to Bonnie Kathleen DeLaney, who preceded him in death in September of 1983.  On December 27, 1983, he was married at West Plains, Missouri, to Thurlinn "Lynn" Bridges, who preceded him in death on February 24, 2010.  On September 7, 2012, he was married at West Plains, Missouri, to Pat Jones.  Mr. Coffman was a machinist and was the owner/operator of Coffman Machine Works.  Many may remember him for his fruit stand in his later years selling peaches and watermelons.  He loved tinkering and making things.  For many years he was a member and Deacon at First Presbyterian Church and was currently a member of River of Life Church of God.
He is survived by his spouse, Pat Coffman; one daughter, Linda Coffman; three step-children, Amy Williams and husband, Joe, Tracy Webers and husband, Stuart and Tony Cheshire and wife, Brenda; one granddaughter, Michelle Blake and husband, Bert; four step-grandchildren, Dreyden, Keegan, Summer and Ty; three great-grandchildren, Tristan, Tucker and Turner; and one sister, Eugenia Schirlinger.
His parents, wives and one brother, Maurice Coffman, precede him in death.
Memorial contributions may be made to the Alzheimer's Association and may be left at Robertson-Drago Funeral Home.