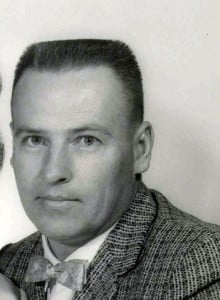 Harold Wendell Heselton, 87, West Plains, Missouri, passed away at 1:35 p.m., Tuesday, December 22, 2015 at Brooke Haven Healthcare.
He was born June 3, 1928, at West Plains, Missouri, to Emerson Lee Heselton and Eulah Fay Alspaugh Heselton.  On August 15, 1950, he was married at Salem, Arkansas, to Leona "Hope" Strickland.  Mr. Heselton was a mechanic and had worked for many years at General Motors.  He enjoyed fishing and hunting.
He is survived by his wife of sixty-five years, Hope Heselton, of the family home; one sister, Wanda Clark and husband, Kenneth, Springfield, Missouri; one nephew, Ken Burk; six sisters-in-law, Wanda Heselton, Faith Wilson, Doan Vaughan, Lela Langston, Virgie McCannon and Joan Vaughan; and one brother-in-law, Raymond Strickland.
His parents, two sisters, Hazel Summers and Ruby Heselton and two brothers, Alvin Heselton and Wayne Heselton, precede him in death.
Burial will be in the Howell Memorial Park Cemetery at a later date.  Arrangements under the direction of Robertson-Drago Funeral Home.