Gerald Edward Miller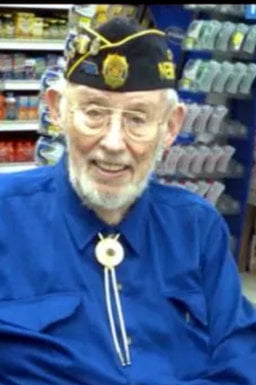 was born November 24, 1926, at Denver, Colorado, to George E. Miller and Rose Mary Berndt Miller.  He was one of eight siblings.  Mr. Miller was a veteran, having served with the United States Navy as a corpsman during WWII, a fact that he was most proud of.
He met his wife, Alyce, at Frontier Days in Cheyenne, Wyoming in 1946, and knew from the moment he laid eyes on her, that she would be the great love of his life. They were married in Scottsbluff, Nebraska on October 2, 1948, and were married for 65 wonderful years, until her passing in December of 2013. His heart never recovered from losing her. He went to be reunited with her on November 12, 2014, one day after celebrating his last Veteran's Day, and just before his 88th birthday.
To that union, they were blessed with four children who survive. Patricia (Dale) Pfeiffer of Colorado Springs, Colorado,(children Brent, Eric and Alyssa)  Jeri Kay (Carl) Kyle of Lexington, Nebraska, (children Justin and Cristina)  Eileen (Larry)Wilson of West Plains, Missouri, (children Shauna Coleman,  Gabe and Bill Browning and Molly Wilson) and Richard Miller and significant other Jill Suits, of Johnstown, Colorado,(children Nicky and Danny) along with fourteen great-grandchildren.
He is also survived by siblings Robert (Ursula) Miller, Gladys (Mel) Cieloha and Thomas (Bev) Miller, all of the State of Colorado.
Preceding him are his beloved wife, Alyce and siblings George, Rosemary, Donald, and Joseph.
Gerald spent his life as a Certified Dental Technician, first for his best friend Forest Yeager in Grand Island, Nebraska. He then moved the family to Lexington, Nebraska along with his wife, also a Certified Dental Technician, and they opened Mil-Rey Dental, his own lab. He loved his work, and eventually moved his lab to Johnson's Lake, Nebraska in semi-retirement. At the lake house he had a number of boats and enjoyed water skiing, ice skating, and fishing. While at the lake, they both became Emergency Medical Technicians and eventually opened the first ambulance service there.
He then retired to Bertrand, Nebraska where he made many friends, and introduced a Sunday morning after-church brunch, which grew to be a huge monthly event, earning enough to save the Veteran's Building there.
They then moved to West Plains, Missouri to live with their daughter during their golden years.  In any town he lived in, he would make a distinctive mark by giving back to that community, and you can bet he would be a part of a card club that would meet often, as pitch was another of his delights. He was also a pilot, and owned several Cessnas throughout his life.
For those who want to participate in remembering how such a wonderful man touched their lives, a Memorial Service for Gerald Edward Miller, 87, West Plains, Missouri will be held at 11:00 a.m., Monday, November 17, 2014, at St. Mary's Catholic Church, under the direction of Robertson-Drago Funeral Home.
In lieu of flowers, donations may be made to the Disabled Veteran's or to Special Olympics and may be left at Robertson-Drago Funeral Home.