Sue Garner Hall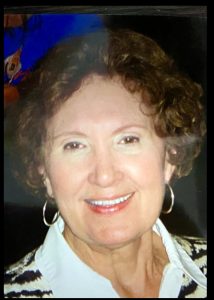 Sue Garner Hall, 79, West Plains, Missouri, passed away at 7:30 a.m., August 8, 2020, at West Plains, Missouri.
She was born in Calico Rock, Arkansas, on December 21, 1940 to Noel and Bernice King Garner.
She was preceded in death by her parents and one brother, Jerry Garner.
At an early age Sue and her parents moved to West Plains where she would live the rest of her life except for a short time in Fort Ord, California, when her husband Jerry was in the Army.  Sue grew up with three younger brothers and a father who were intensely interested in athletics. Growing up she could never walk down the hall to her bed room without navigating basketball defense moves by her brothers. All the practice paid off as the brothers played basketball at West Plains High School and one brother, Gary, played for Missouri University and went on to coach college level basketball winning the NCAA Division II National Championship for Fort Hayes State in Kansas. Her youngest brother Roger was the Zizzer baseball coach for many years and the other brother, always referred to as Jerry Garner, remained an avid fan of the sport seeing as many as three or four games a day upon retirement. Sue also had athletic ability but girls in the fifties were not encouraged to develop it. She had to settle for amazing her son Daniel with her ability to water ski and glide into shore without getting her hair wet. She was also an avid tennis player. It was not surprising when Sue married a basketball player, her high school sweet-heart, Jerry Hall. Jerry played four years for what is now Missouri State University. Jerry and Sue were married August 27, 1960. They were avid Grizzly Boosters and could always be seen at the Grizzly Games rooting for the home team.  Jerry and Sue have two sons, David Garner Hall and Daniel Lee Hall. Daniel and his partner Eyal Haim live in San Francisco and David and his wife Dana live in West Plains. David and Dana have two sons, Samuel and Andrew, who enjoyed the full attention and pride of their grandmother "GiGi," as the boys called her. She had a special voice, never heard by her sons, used only for Samuel and Andrew. The special voice was never demanding or harsh but kind and only "suggested" when it was time to get out of the swimming pool and go home.  Family was a priority in Sue's life. She enjoyed family reunions and especially the opportunity to spend time with her King cousins at the reunions in Calico Rock.  Some of her fondest memories were of the early morning walks with her long-time friend, Kay Garrett. After her mother passed away, Sue became a mainstay in the remaining years of her father Noel's life.  Sue was an excellent cook and was especially known for her custard pies and lasagna. She appreciated tidiness and seeing numbers lined in straight columns. This skill was put to good use in the many years she worked in the office of the family business. Her working career ended with a diagnosis of Lewy Body Dementia. She met this challenge with the grace and stoicism of her nature. Her caretakers found her always kind, appreciative and non-demanding. Her husband Jerry was constant in his attention to her care by going to help feed and care for her every day until Covid-19 caused him to halt his visits to the Greenhouse at West Vue. The staff continued to give her kind and considerate care until her death.  Sue's last few years were difficult for her, her family and friends. She has now found peace through her faith in Jesus Christ. She was a long time and faithful member of the First Baptist Church of West Plains.
Due to the pandemic there will be no service, but a memorial service will be held at a later date.
Memorial contributions may be given to the Lewy Body Dementia Association, the Garnett Library or the Jerry and Sue Hall Grizzly Endowed Scholarship at MSU, and may be left at or mailed to Robertson-Drago Funeral Home, 211 West Main, West Plains, MO  65775.