Harold Junior Collins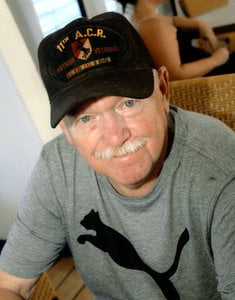 Funeral services for Harold Junior Collins, 73, West Plains, Missouri, will be held at 2:00 p.m., Monday, July 11, 2022 at Life Point Church of West Plains, under the direction of Robertson-Drago Funeral Home.  
Mr. Collins passed away at 10:17 a.m., Tuesday, July 5, 2022, at his home.  
He was born October 21, 1948, at Pumpkin Center, Missouri, to Harold and Ora B. Wheatley Collins.  On August 4, 1989, he was married at West Plains, to Karen Stockton.  Mr. Collins was a veteran, having served in Vietnam with the United States Army and was awarded three purple hearts.  After returning home, he worked at the International Shoe Factory for thirty-one years, then at Invensys for fifteen years until his retirement.  He enjoyed playing softball, hunting, golfing, fishing, watching westerns and spending time with his children and grandchildren.  Family was most important to him.     
He is survived by his wife, Karen Collins; three sons, Billy Roberts and wife, Jennifer, Bobby Roberts and wife, Heather and Aaron Collins, all of West Plains; two daughters, Edna (Maggie) Eaglebear and significant other, Dale Collins, West Plains and Katie Grimes and husband, Justin, Thayer, Missouri; step-son, Thomas Atkins; son-in-law, Tyler Young; nineteen grandchildren, Ashton Roberts, Skyler Roberts, Noah Garrett, Justice Garrett, Brayden Roberts, Jesse, Leslie and Jacob Eaglebear, Samantha Atkins, Katherine, Tiffany and Misty Young, Dalton, Holly Jo, Shelby and Lane Grimes, Katrina Williams and husband, Lucas, Mariah Mays and husband, Austin and Hayli Smith; four siblings, Judy Harden and husband, Bill, South Fork Missouri, Sibley Collins, West  Plains, Joseph Collins, West Plains and Ora (Tink) Fulton, Greenville, Illinois; brothers-in-law and sisters-in-law, Brenda Collins, Coy Stockton, Teresa Sexton and Larry Stockton and w ife, Cathy; and many nieces and nephews.
His parents, one daughter, April Young, two brothers, Kenneth and Robert Collins, one sister, Sheila Keller and husband, Leon, father-in-law and mother-in-law, Ivan Stockton and Barbara Jo Stockton Fox, sisters-in-law, Diana (Jody) Tucker, Debra Lynn Stockton and Susan Stockton and one niece, Ada Shinaro, preceded him in death.  
Visitation services will be held from 1:00 until service time at Life Point Church.  Burial will be in Horton Cemetery.  A family reception will follow at Central Calvary Baptist Church.