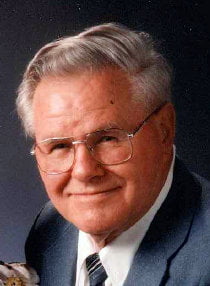 A private graveside service was held for Herbert Metzger, 98, West Plains, Missouri, at Oak Lawn Cemetery, under the direction of Robertson-Drago Funeral Home.
Mr. Metzger died at 8:49 a.m., Sunday, April 19, 2015, at West Vue Nursing Center.
He was born January 24, 1917, at Aurora, Illinois, to George E. and Ethel Clinger Metzger.  On July 17, 1946, he was married at Lexington, Kentucky, to Norma J. Cox.  Herbert liked to work with his hands; by the age of ten, he could tear down and rebuild model T's.  He has fond memories of the Kentucky farm where he worked for several years.  As a young man he broke horses on the farm and from that received a leg injury, but did not let the injury keep him from working.  He held many other jobs.  After moving to West Plains, he was employed at Cloud Oak Flooring Company as a foreman for several years.  He was also the owner of J. I. Case Tractor Company.  In 1964, he and Norma moved to California and did lots of traveling in their motor home.  After retiring in 1988, they moved back to West Plains.
He is survived by his son, Don Metzger and wife, Loretta; one granddaughter, Traci Willison and husband, Shane; great-grandchildren, Mayce, Kale, Jackson and Griffin Willison; and daughter Jean Eby and husband, Richard, Argos, Indiana.
His parents, wife, one son, Herbie Metzger, one brother Paul and one sister, Edna Hansen, precede him in death.