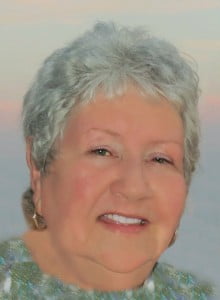 Holly "Lynn" Lawrence, 71, West Plains, Missouri passed away peacefully Friday, April 10, 2015 at Barnes Jewish Hospital, St. Louis, Missouri.  Lynn fought an uphill battle for six weeks after complications following heart surgery.
She was born in Meshoppen, Pennsylvania and spent most of her childhood and young adult life in Southern Florida until 1979.  Lynn and husband Bob moved their family to a farm near Alton, Missouri where their children attended school at Thayer.  Even though Lynn loved many things about living in Missouri, her heart truly never left Florida.  She met her true love and best friend, Robert Lawrence in 1968 and they were married in 1969.  Lynn and Bob shared a lot of laughter and tears during their forty-six year marriage.  Up until Lynn's last moments with us Bob was still kissing her cheek and assuring her this was not the end but just the beginning and thanked her for being a wonderful wife, mother, nana, sister and friend.  All that knew Lynn would agree with Bob.  Lynn's first and foremost priority was taking care of her family and friends.  Some consider cooking a job, however in Lynn's eyes it brought her great joy.  Both daughters, Chrissy and Jessica are both blessed with many recipes, but most valued are the memories of kitchen time with mom. Lynn worked at Ozarks Medical Center for twenty-two years as a Clinic Technician.  Until her retirement in 2008 she assisted numerous Physicians and Nurse Practitioners.  Lynn will live in the hearts and laughter of people she shared her opinions with on politics, gardening, growing flowers and plants.  Her love for her hobby of "junkin" as she called it provided a source of playful teasing by family of what items she would haul home (sometimes hiding the item and not revealing it until just the right time).  No matter what shape or despair her treasure was in when it was brought home she could always breathe life back into it and produce a gem.  More times than not the joke was on those who teased her.  Each summer while vacationing in Florida time was spent "junkin" with her sister, Rachel.  This is the only time Lynn could not hide her treasures from Bob since he had to load and then unload them.  Lynn had a great love for the ocean and beach.  Some of the happiest times for Lynn was exploring what types of shells, sand dollars or mysteries that washed up on the beach with her family.  And let's not forget her favorite food of all, seafood.  Although her children where loved deeply by Lynn, grandchildren Taylor and Sophie held a very special spot in her heart. Nana as they called her was that cool grandmother that never got upset over spilled milk, taught them nick names for squirrels "Chester" and Red Birds "Rex" and showed her true sense of humor by telling jokes and pulling pranks. Sophie says, my Nana always danced in the kitchen when I was having a bad day to make me feel better.
She is survived by husband, Robert Lawrence of the family home; three children, Jamie Lawrence, West Plains, Chrissy Walker, husband, Jerry, West Plains and Jessica Denton, husband, Jon, Akron, Ohio; five grandchildren, Taylor Ryan, Sophia Walker, Logan Lawrence, wife, Summer (great grandchildren Everli Slade and Kaber), Jordan Lawrence, Springfield, Missouri, Whitney Lawrence (great grandchild Chandler); one sister, Rachel Snyder Hartmann, West Palm Beach, Florida; one nephew, Beck Hartmann, wife, Kim, and daughter Ashley; one niece, Heather Hartmann Vanderplate, husband, Jake.
No services will be held out of respect for Lynn's final request which was for her family to surround her with love as she embraced her journey to heaven.  After being cremated she wanted her ashes spread in the Ocean where other members of her family have been placed. Memorial contributions may be made to the American Heart Association, and may be left at Robertson-Drago Funeral Home. Arrangements under the direction of Robertson-Drago Funeral Home.