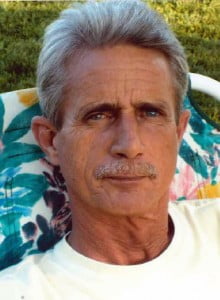 A private graveside service will be held at Howell Valley Cemetery, for James Raymond Beam, 60, Pomona, Missouri.
JR departed from this earth to start his heavenly journey at 3:50 p.m., Friday, April 17, 2015, at his home surrounded by his loving family.
James Raymond Beam was born September 29, 1954, at Akron, Ohio, to Joseph Franklin Beam and Nellie Kathryn McBee Beam.  JR was a Christian.  He was a veteran, having served with the United States Navy.  On July 1, 1994, JR wed his best friend, Tracy Brown.  They were happily married for twenty-one years.  A hard working man, JR made his living driving a truck for Transland Trucking Company, Springfield, Missouri for twenty-one years, until his cancer prevented him from continuing the job he loved.  JR enjoyed many things that included working on his 1961 Thunderbird, yard work, BBQ's with family, and above all, spending time with his wife.
He will be greatly missed by his wife, Tracy; four children, Jim Beam, wife, Diane, Joey Beam, fiancée Jennifer, James Young, Daniece; special daughter and son-in-law, Mindy and Joe Howell; eleven grandchildren, Patrice, James, Kaitlynn, Hunter, Mikayla, Peyton, Kylie, Lily, Dylan, Morgan and Jacob Ray "a/k/a Little JR"; two sisters, Renee Beam and Gail Klein; mother-in-law, Pat Brown; sister-in-law, Tara Brown, special Friend, Willie; brother-in-law, Troy Brown, wife, Mary; several nieces and nephews; and co-workers at Transland Trucking Company.
His parents, one brother, John and father-in-law, Merle Brown, precede him in death.
A special thank you to Dr. Spurling and staff at Ozark Family Care for the excellent care JR received.
Memorial Contributions may be made to Howell Valley Cemetery and may be left at Robertson-Drago Funeral Home. Arrangements under the direction of Robertson-Drago Funeral Home.