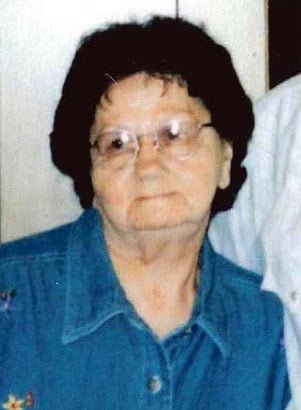 Graveside services for Inis McClellan, 87, Harrison, Arkansas will be held at 10:00 a.m., Saturday, February 14, 2015, at Oak Lawn Cemetery, under the direction of Robertson-Drago Funeral Home.
Mrs. McClellan died at 3:35 a.m., Thursday, February 12, 2015, at Hospice of the Hills, Harrison, Arkansas.
She was born September 22, 1927, at Trail Hollow, Missouri, to Ruben and Nina May Trail Young. On February 14, 1948, she was married at West Plains, Missouri, to Albert Chalmer McClellan, who preceded her in death on April 1, 1999. She enjoyed gardening and taking country drives and especially enjoyed watching her grandchildren and great-grandchildren grow and seeing their accomplishments. Mrs. McClellan was of the Pentecostal faith.
She is survived by six children, Jessie McClellan, wife, Glenda, Gale McClellan, and Barbara Hendricks, husband, Bud, all of Harrison, Arkansas and Donnie McClellan, wife, Alice, Jerry McClellan, wife, Gayla and Betty Deweese, all of West Plains, Missouri; ten grandchildren, Kevin McClellan, Shannon McClellan, wife, Krystal, Sue Brashers Conerly, Micheal Howard, Mitchell Hendricks, Amy Howell, Amanda Fox, Shawn McClellan, Eric Deweese, wife, Alesha and Kent Deweese; twelve great-grandchildren; three brothers, Eb Young, West Plains, Jessie Young, wife, Mige, West Plains and Les Young, Springfield, Missouri; one sister, Bessie Warren, husband, Don, Tallahasee, Florida; and several nieces and nephews.
Her parents, husband, two sons, Billy Joe McClellan and Ronald Gene McClellan and seven siblings, precede her in death.
Mrs. McClellan will lie in state from 5:00 until 9:00 p.m., Friday at Robertson-Drago Funeral Home. Memorial contributions may be made to Hospice of the Hills, Harrison, Arkansas, and may be left at Robertson-Drago Funeral Home.