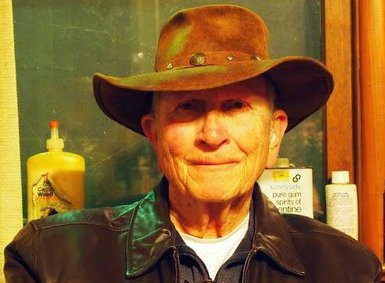 A Celebration of Life for Lyle Elmer Eastman, 86, West Plains, Missouri will be held at 2:00 p.m., Saturday, February 14, 2015, at the Langston Street Chapel of Robertson-Drago Funeral Home.
Lyle Elmer Eastman, son of the late Ethel Eastman, was born in Wichita, Kansas on August 6, 1928 and passed away January 26, 2015.
He is survived by his wife of thirty-two years, Judy Eastman, of the family home; his children, Gina Richardson, husband, Dan, Bellevue, Washington, Brian Baldus, wife, Kim, St. Paul, Minnesota, Steve Baldus, wife, Lisa, Independence, Missouri, Kathy Zipp, St. Joseph, Missouri, Bruce Eastman, wife, Quan Ying, Boise, Idaho and Stephanie Spikoski, husband, Kenneth, West Plains, Missouri; eight grandchildren and six great-grandchildren. He was an only child but had many brothers and sisters in faith.
After graduating from high school, he joined the United States Navy and set sail upon the high seas, bound for the Pacific. After his service to his country, he came home and met his wife, Betty. After thirty years of marriage, Lyle lost Betty to cancer. He and Judy were married on January 29, 1983. Together Judy and Lyle built a thriving insurance business. He not only took pride in this business, but also truly relished the friends he made during his time in business. Over the years, as an honorary member of the Optimist Club, Lyle helped with the Mighty Might Football program as well as many other community outreach opportunities. He was an enthusiastic member of the Missouri Cattleman's Association. As an avid golfer, he was always looking for a good place to play a round of golf. He spent many days and walked many miles on the courses throughout the country. He also enjoyed the relaxation of fishing. He served God and attended the Washington Avenue Church of Christ. He always had a strong faith and knew that no matter the circumstance, God was looking out for him. It was his wish that those who remember him would take a moment to reminisce the good times as their lives crossed. His final goal was to love and have fun and to live in his belief that "Life is good." As he struggled with cancer over the past twenty years, his faith never wavered; in fact, it only became stronger. He always had a smile and a handshake ready, the fear of his mortality never shown on his face. He was always confident God would see him through and he did. After years of cancer, two heart attacks and congestive heart failure, this man walked on. When it seemed, even to his Doctors, he would not make it; he would find the strength in God and in Family to pull through. In the end, with his family and friends around him, he spoke of things we could not see and assured us everything would be all right, as he had done a thousand times before. When his time finally came, he was at peace and with his darling wife by his side; he went to meet his God. As one last gift, he donated his body to medical research through the Genesis program.
There will be no graveside service. Memorial contributions may be made to Washington Avenue Church of Christ, and may be left at Robertson-Drago Funeral Home.