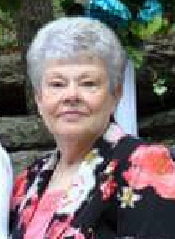 Funeral services for Loretta May Burgess, 72, Seligman, Missouri will be held at 2:00 p.m., Sunday, February 15, 2015, in the Rose Chapel at Robertson-Drago Funeral Home.
Mrs. Burgess died at 2:00 a.m., Thursday, February 12, 2015, at Mercy Hospital, Springfield, Missouri.
She was born November 26, 1942, at Pomona, Missouri, to Harlow Guy Thompson and Dorothy Angelena Rainier Thompson. On January 4, 1963, she was married at Pomona, Missouri to Tommy Burgess. Mrs. Burgess attended Beauty College at Springfield, Missouri, worked for the United States Postal Service a total of twenty-eight years, including West Plains as a clerk and carrier, assistant post master at Pomona and retired as post master at Seligman, Missouri. She was also the Treasurer of Seligman Chamber Commerce for twelve years. Mrs. Burgess was a member of Mt. Zion Baptist Church, Olden, Missouri.
She is survived by her husband, Tommy Burgess, of the family home; two children, Angela Marti, husband, Terry, Springfield, Missouri and Melissa Appleton, husband, Claude, Seligman, Missouri; two grandchildren, Brad Appleton, wife, Ashlee and Alisha Reese, husband, Jacob; two great-grandchildren, Braxton and Asher Appleton; one sister, Shirley Pitman, husband, Gerald, Ozark, Missouri; special friend, Cleta Stanley; special cousin, who was like a sister, Nann Albin, West Plains, Missouri; and several nieces and nephews.
Her parents and one brother, Richard Thompson, precede her in death.
Visitation will be held from 1:00 until 2:00 p.m., Sunday at Robertson-Drago Funeral Home. Burial will be in the Howell Memorial Park Cemetery. Memorial contributions may be made to the American Diabetes Foundation, and may be left at Robertson-Drago Funeral Home.