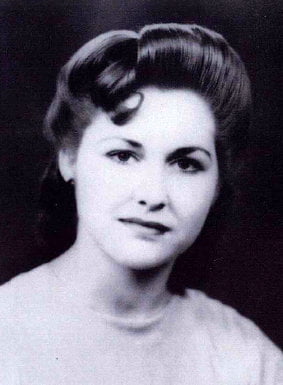 Funeral services for Isabel Eugenia Hensley, 89, Caulfield, Missouri, will be held at 2:00 p.m., Saturday, August 2, 2014, in the Rose Chapel at Robertson-Drago Funeral Home.
Mrs. Hensley died at 6:30 p.m., Monday, July 28, 2014, at her home.
She was born April 21, 1925, at Harrisonville, Missouri, to Pete Erdwin and Ruby Wigginton Erdwin. She was the foster daughter of Roger and Ethel Masonbrink and was raised on a forty acre farm along with her brother, Buddy Masonbrink. She was working at Pratt & Whitney in southern Kansas City, Missouri making airplane parts when she met her husband. On July 13, 1947, she was married at Mountain Home, Arkansas, to Earl Edward Hensley, who preceded her in death on
August 21, 1993. She was a member of the Church of Christ and attended Prairie Grove Church of Christ for many years.
She is survived by nine children, Connie Loy, husband, James, West Plains, Missouri, Sharon Eagleman, husband, David, Garber, Oklahoma, Kenny Hensley, wife, Kathleen, Mountain View, Missouri, Gary Hensley, wife, Betty, Lebanon, Missouri, Phillis Burkhart, husband, Alan, West Plains, Missouri, Ronnie Hensley, wife, Teresa, Caulfield, Missouri, Dennis Hensley, wife, Sherry, Vilonia, Arkansas, Vickey Ehret, husband, Mike, Caulfield, Missouri and Betty Knowles, husband, John, Ozark, Missouri; twenty-six grandchildren; twenty-six great-grandchildren; three great-great-grandchildren; two sons-in-law, Arthur Eagleman, Tomball, Texas and Harold Johnson, Mountain Home, Arkansas; and several nieces and nephews.
Her parents, foster parents, husband, one son, Eddie Hensley, three daughters, Linda Sue Hensley, Katie Lynn Eagleman and Lora Johnson, one brother, Buddy Masonbrink and one sister, Mary Erdwin, precede her in death.
Visitation will be held from 6:00 until 8:00 p.m., Friday at Robertson-Drago Funeral Home. Burial will be in the Pottersville Cemetery. Memorial contributions may be made to the American Heart Association, and may be left at Robertson-Drago Funeral Home.