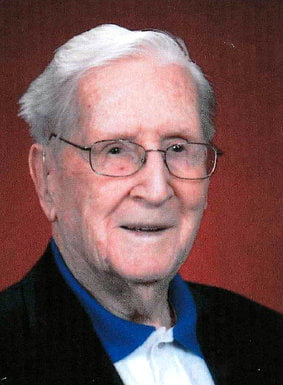 Alfred William Stillman passed peacefully on July 28, 2014, two days shy of his one-hundredth birthday, at West Vue Nursing Center, West Plains, Missouri.
He was born in Garwin, Iowa and in 1924 moved with his family to Biloxi, Mississippi. After working with the Civilian Conservation Corp for several years, he married Marie Ann Hengen in 1940. Alfred worked with the U.S. Army Corps of Engineers and was commissioned captain in the U.S. Air Force Reserves where he worked as a military auditor throughout the Southeast. He became a widower in 1994 and moved to West Plains in 2002 to be near one of his daughters. Alfred was a 75 year Mason and member of First United Methodist Church of West Plains.
He is survived by his son, Alfred William Stillman, Jr. and wife, Helen, Saucier, Mississippi; daughter, Helen Atkinson and husband, Richard, West Plains, Missouri; daughter Ann First, and husband Fred, Floyd, Virginia; daughter Margaret Shuman and husband, Paul, Atlanta, Georgia; seven grandchildren; and eight great-grandchildren.
A graveside service will be held in Biloxi, Mississippi, this fall.
In lieu of flowers, friends and family may make memorial contributions to Gideon's International, to which Alfred belonged for many years and may be left at Robertson-Drago Funeral Home.