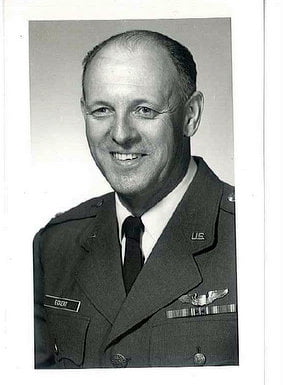 Funeral services for Julius John Eckert, 97, Peace Valley, Missouri, will be held at 2:00 p.m., Thursday, July 31, 2014, at the Langston Street Chapel of Robertson-Drago Funeral Home.
Mr. Eckert died at 4:35 a.m., Wednesday, July 23, 2014, at West Vue Nursing Center.
He was born March 18, 1917, at Bethlehem, Pennsylvania, to Harry James Eckert and Amy M. VanKeuren Eckert. He graduated from Kingston High School, Kingston, New York, with the Class of 1935 in the middle of the Great Depression. On March 6, 1943, he was married at Laurel, Mississippi to his 4-H sweetheart, Thelma T. Tucker.   This year they celebrated their 71st wedding anniversary. He had a lifetime interest in growing plants and graduated from the State University of New York Agricultural and Technical Institute at Farmingdale, Long Island where he also earned a pilot's license. In March, 1942, he enlisted as a private in the United States Army Air Corps. Mr. Eckert served as a pilot with the 69th Tactical Reconnaissance Group until his separation from active duty at the end of World War II. His group saw action in the European Theatre and he flew thirteen combat missions in a P-51 Mustang Fighter. After World War II he served in the United States Air Force Reserve and retired as a Lieutenant Colonel in March, 1977. Mr. Eckert worked as a Regional Forester for the Department of Conservation in the State of New York and retired after thirty-two years of service. In 2001, he was recognized as a fifty year member of the Society of American Foresters.  In 2005 Julius and Thelma relocated to Peace Valley, Missouri.
He is survived by four children, Judith Tompkins, husband, Dave, Peace Valley, Missouri, Thomas Eckert, wife, Cheryl, Cape Vincent, New York, Jay Eckert, wife, Joanne, Frewsburg, New York and Timothy Eckert, wife, Jane, Takaka, New Zealand; seven grandchildren, Shelly Cannon, husband, David, David "Rip" Tompkins, wife, Lisa, Carrie Siegman, husband, Gregg, Joshua Eckert, wife, Sarah, Adam Eckert, Andrew Eckert, wife, Jenny and Jesse Eckert; and ten great-grandchildren.
His parents, one sister, Ethel O'Hara and one brother, Howard Eckert, precede him in death.
Visitation will be held from 5:00 until 7:00 p.m., Wednesday, July 30, 2014 at the Langston Street Chapel of Robertson-Drago Funeral Home. Burial will be in the New Hope Cemetery. Memorial contributions may be made to Ozarks Food Harvest, and may be left at Robertson-Drago Funeral Home.