Jacque Jacobs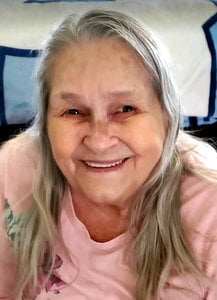 Memorial services for Jacque Jacobs, 84, of West Plains, Missouri, will be held on Sunday, June 11, 2023 at 2:00 pm, at Pomona Christian Church.
Mrs. Jacobs passed away at 5:02 pm, June 3, 2023 at NHC West Plains, surrounded by her family.  
She was born May 5, 1939 in Spencer, Iowa to Henry Jr. and Helen Sharff. On November 29, 1957, she married James Louis Jacobs, Jr. They spent 57 loving years together. Jacque was a lifelong homemaker. She was an avid reader and enjoyed canning produce picked from the family garden.  Most of all, Jacque enjoyed spending time with those who called her Mom, Meme and Gigi. Family gatherings would often consist of more than 30 people and 4 generations sitting around the dinner table with her. Jacque will be remembered for having strong Christian beliefs and strength, providing advice and a level head through the most trying of times.  She raised her children to be strong and caring, her grandchildren to be independent and brave, and her great-grandchildren to be compassionate and loving. Jacque believed being a homemaker also meant that you learned to become a jack-of-all-trades. She always believed in whatever wild dream you came up with and supported you through it.
She is survived by her five children, three sisters, three brothers, nine grandchildren and many great-grandchildren.
Proceeding her in her death is her loving husband James Jacobs, her parents, son-in-law Robert Olsen and great-grandsons Jordan Kinder and Issac Rupp.
Memorial contributions may be made to Pomona Christian Church and may be left at or mailed to Robertson-Drago Funeral Home, 211 West Main, West Plains, MO  65775.