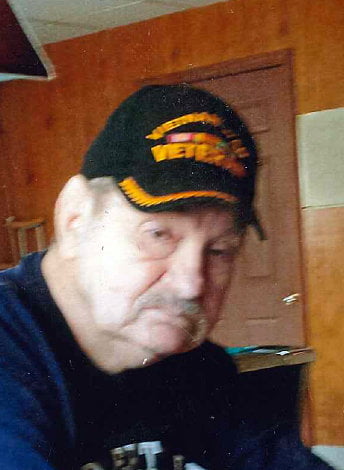 Funeral services for James Elvin Hammond, 74, West Plains, Missouri, will be held at 10:00 a.m., Friday, June 24, 2016 in the Rose Chapel at Robertson-Drago Funeral Home.
Mr. Hammond passed away at 1:48 p.m., Monday, June 20, 2016 at NHC Healthcare.
He was born November 16, 1941, at Sturkie, Arkansas, to Lester D. "Lek" Hammond and Emma Carmack Hammond Workman.  He graduated high school with the Class of 1959 at Salem, Arkansas.  Mr. Hammond was a veteran, having served with the United States Army during the Vietnam War; he was a decorated Vietnam veteran, having received medals as a rifle marksman and Armed Forces Expeditionary Medal.  On October 17, 1980, he was married at Union Grove Church, Pottersville, Missouri, to Beverly Collins.  He worked at West Plains Monument for thirty-six years; he engraved and sold monuments alongside Joe Bill Wright.  Jim worked hard to take care of his family and enjoyed fishing and spending time with his family.  Mr. Hammond was a member of the Church of Christ and attended Central Church of Christ.
He is survived by his wife, Beverly Hammond, of the family home; four children, Mark Hammond and wife, Gayla, West Plains, Missouri, Lester Dwayne Hammond and wife, Michelle, Moko, Arkansas, Coyeatte Ewing and husband, Jon, Springfield, Missouri and Meshell Fox, Austin, Texas; ten grandchildren, Jacob and Jessica Hammond, Steven and Stephanie Olmsted, Erica and Briley Ewing and Tyler, Jesstin, Taylor and Austin Fox; eight great-grandchildren, Jaedyn, Jensen, Jaxston, Kayden, Amity, Grayson, Faith "Crickett" and Bryson; one brother, Larry "Peanut" Hammond, Salem, Arkansas; and several nieces and nephews.
His parents, one brother, Billy Wayne Hammond and his father-in-law and mother-in-law, Sterling and Irene Collins, precede him in death.
Visitation will be from 6:00 until 8:00 p.m., Thursday, at Robertson-Drago Funeral Home. Burial will be in the State Line Cemetery.  Memorial contributions may be made to Fair Haven Children's Home and may be left at Robertson-Drago Funeral Home.