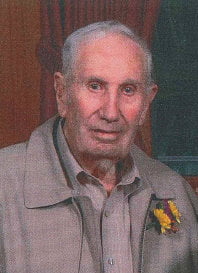 Funeral services for William Thomas Hicks, 88, West Plains, Missouri, will be held at 10:00 a.m., Tuesday, June 21, 2016 in the Rose Chapel, Robertson-Drago Funeral Home.
Mr. Hicks died 6:54 a.m., Saturday, June 18, 2016 at his home. He was born November 2, 1927 at Trail, Missouri to William Riley Hicks and Lola Leona Tate Hicks. On August 2, 1951, he was married at Hardy, Arkansas to Minnie Belle Talley who preceded him in death on January 13, 2016. At the time of his wife's death, the couple were married for sixty-four years. Mr. Hicks was a veteran having served in the United States Army during the Korean Conflict. Before his retirement, Mr. Hicks was a truck driver and was an owner and operator for many years. He enjoyed farming and spent much of his free time working his farm. Mr. Hicks loved and enjoyed his family, and considered many of his family members as his closest friends. He strived to be a strong provider for his family and was very devoted to his wife, children and grandchildren. Mr. Hicks had recently become a Christian and was a member of the Curry Street Church of Christ.
He is survived by his daughter, Jan Hall and husband, Larry, West Plains, Missouri; his son, Bruce Hicks and his wife, Madalyn, West Plains, Missouri; four grandchildren, Chad Hall, St. Charles, Missouri, Mandy Pitts and husband, Chad, West Plains, Missouri, Cassie Hicks, Prairie Village, Kansas and Ross Hicks and wife, Abbey, West Plains, Missouri; two great-grandchildren, Kelsey and Luke Pitts; his sister, Juanita Smith; two sisters-in-law, Margie Ryan and Betty Green and husband,Kenneth; one brother-in-law, Bill Talley and wife, Sharon; and numerous nieces and nephews.
He is preceded in death by his parents, wife, four sisters, Lorene Aborn, Burnica Thompson, Iretta Young and Pauline Billups, one brother, Dwayne Hicks, five sisters-in-law, Helen Burford, Lorraine Provow, Pauline Miladin, Hazel Henson and Cassie Heinrich and three brothers-in-law, Melvin Talley, Oscar Talley and Donald Talley.
Visitation will be from 6:00 until 8:00 p.m., Monday, June 20th, at Robertson-Drago Funeral Home. Burial will be in the Oak Lawn Cemetery. Memorial contributions may be made to Riverways Hospice and left at Robertson-Drago Funeral Home.