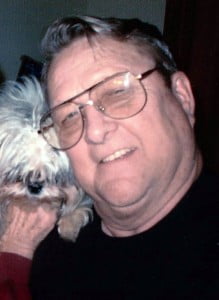 Graveside services for James Eugene Campbell, 75, Lebanon, Missouri, formerly of West Plains, will be held at 3:00 p.m., Saturday, September 19, 2015 at Howell Memorial Park Cemetery, under the direction of Robertson-Drago Funeral Home.
Mr. Campbell died September 14, 2015 at Harry S. Truman Veteran's Hospital, Columbia, Missouri.
He was born March 6, 1940, at Boonville, Missouri, to Harvey Campbell and Vera Palmerton Campbell.  He was married to Jean Shirk, who preceded him in death and later married Carol (Vestal) Fair.  Mr. Campbell was a veteran, having served with the United States Marines during the Vietnam conflict.  He retired as a supervisor after working for thirty years in development at Lockheed Aircraft Corporation, now known as Lockheed Martin.  He was a very giving person and cared deeply for his family and friends.  While living in West Plains, he was a member of the Elks Lodge. He enjoyed spending time at Cloud 9 Ranch.
He is survived by his wife, Carol Campbell; two children, Tammy Raley and James Campbell, Jr., wife, Sandy; seven grandchildren, Amber Greene, husband, Michael, Sara Terry, husband, Michael, Chris Raley, wife, Emily, Josh Raley, Ryan Campbell, wife, Kristy, Megan Howe and Courtney Howe; ten great-grandchildren; one brother, Don Campbell, wife, Konnie; one sister, Marion Kimball; special friends, Erin and Delores Horner and family; and his dog, Skoshi.
His parents, first wife, one daughter, DiDi Howe, one great-grandchild and one son-in-law, Marty Raley, precede him in death.