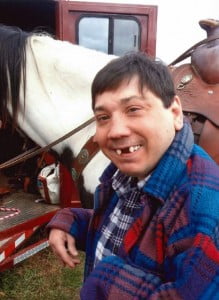 A celebration of life service for James "Jamie" Allan Heath, 39, West Plains, Missouri, will be held at 10:00 a.m., Thursday, July 9, 2015, at Faith Assembly Church, under the direction of Robertson-Drago Funeral Home.
Jamie passed peacefully into the arms of Jesus at 8:45 a.m., Saturday, July 4, 2015, at his home surrounded by his family.
He was born April 23, 1976, at Fort Lauderdale, Florida, to Jerry and Donna Heath.  He attended the State School in West Plains from 1989 until graduation in 1997.  During those years he formed many lasting friendships with his teachers and classmates.  Following his time at the State School, Jamie attended Let's Go training center in West Plains until November of 2014.  Jamie was a very tender hearted boy who loved everyone.  Every girl he met instantly became "his girl".  He loved going to school each day and seeing his friends and teachers.  Jamie was a member of Faith Assembly and attended faithfully.  He could always be heard saying amen and lifting his voice in praise to God.  Many lives were touched by his joy and genuine love.  Jamie always had a smile on his face and was quick to kiss the hand of everyone he saw and say "I love you".  He loved serving at the hospitality booth with his parents each Sunday at church greeting new guests.  Jamie loved his family very much.  He was very close with his sister Renee', who lives in Troy, Missouri and loved her reading books to him via skype.  Jamie was his older brother's shadow growing up and loved listening to Jerry Wayne preach.  He always insisted on walking up onto the platform with Jerry Wayne following each service.  His niece and nephew, Kaitland Taylor and Corbin Jaxon, were his favorite play mates.  They were always wrestling together and spending time at his house.  He loved attending their ball games and yelling their names.  Jamie loved his sister-in-law, Bethany Ann, and loved giving her kisses.  Jamie was loved so much by his parents, Jerry and Donna, who faithfully cared for him day in and day out.  He loved getting McDonald's with "jerry the dad" and was very protective of "momma Donna".  Jamie could always be found holding his Ernie toy and his favorite toys were "noise toys".  Jamie loved all his friends, family and extended family and was loved by all.
He is survived by his parents, Jerry and Donna Heath, of the family home; one sister, Renee', Troy, Missouri; one brother, Jerry, wife, Beth, West Plains; niece and nephew, Kaitland Heath and Corbin Heath, West Plains; and many aunts, uncles and cousins around the nation.
Jamie had many physical challenges in his lifetime, including his recent battle with liver cancer.  During the last six months, his life was blessed with the presence of two loving nurses, Jessica Andrews and Cassie Smith.  Despite the many obstacles Jamie faced in his lifetime, he and his family saw many miracles and answers to prayer.  During the last year many churches and believers all across the nation came together to pray for the healing of a boy most had not had the privilege to meet.  Jamie left a legacy of love that will live on in many hearts.
Visitation will be held from 6:00 until 8:00 p.m. at the Langston Street Chapel of Robertson-Drago Funeral Home.  Burial will be in the Evergreen Cemetery.  Memorial Contributions may be made to the family and may be left at Robertson-Drago Funeral Home.