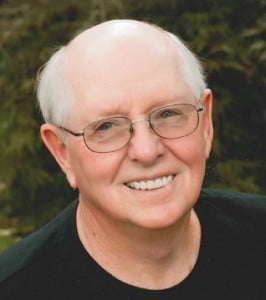 Funeral services for Earl "Keith" Bash, 74, West Plains, Missouri, will be held at 2:00 p.m., Thursday, July 2, 2015 at the First Baptist Church in West Plains under the direction of Robertson-Drago Funeral Home.
Earl "Keith" Bash was born June 24, 1941, in Monticello, Missouri, and died peacefully at home surrounded by family June 27, 2015. He accepted Christ at an early age, and professed his faith his entire life. After moving to West Plains, his early years were spent in attendance, with his family, at The Christian Church, where he held many fond memories. Upon returning from the service, he rededicated his life, and was baptized at The First Baptist Church, where he faithfully attended for 50 years.
He was the only son of Earl (Spider) and Mary Virginia Bash. He attended West Plains High School and graduated with the Class of 1959, where he developed friendships that would deepen throughout his lifetime. After returning from the United States Navy in 1963, he worked alongside his father in the dozing business.
On June 26, 1965, he was married to Kaye Jean Talley. His final day was spent celebrating his 50th Anniversary. To this union two sons were born: Keegan Bash and wife, Lori, and Kaenan Bash and wife, Kristi. After the death of his sister, Judy Wheat, they were given the privilege of being a part of Dennis, Michael and Tracy Wheat's lives. Michael would continue to live in their home until he left to attend college.
Keith spent the next 30 years working for the telephone company, where he remained until his retirement in 1995. At that time, he began working alongside his wife in their business, A & K Interiors, until the business was sold in 2004.
His sons and nephew blessed him with seven grandchildren, who lovingly called him "Poppy". They include: Denby, Kemper, and Brinkley Bash, Kathryn Vonallmen Bash, Braydon Bash, and Andrew and Sarah Wheat.
Preceding him in death were his parents; his wife's parents, Truman and Lorene Talley; sister, Judy Wheat; brothers-in-law, Harry Penn, Gordenceia and Menard Talley, and his nephew, Gordenceia Talley, Jr.
Keith's life was characterized by a devotion to his family and those he encountered in need and was expressed in many ways. After his father's stroke, he and Kaye Jean lovingly cared for him in their home for several years. His children and grandchildren were always his top priorities. Their hobbies and interests became his hobbies and interests so that he was able to spend quality time and make many priceless memories with them. The family's cabin on the river was a very peaceful place to him, and he looked forward to sharing it with family and friends. Keith enjoyed a lifelong love for Harley Davidson motorcycles and rode many miles with a special group made up of family and friends. He always looked forward to taking Kaye Jean and his sons on many family vacations, and in later years enjoyed several cruises and trips with Kaye Jean. He lived a life of thankfulness and remained positive until the very end. His friends remembered him as someone who was fun-loving and witty.
He is survived by his wife; his sons, their wives and grandchildren; his sister, Debbie Penn, and many nieces and nephews.
Visitation for Keith Bash is scheduled for 6:00 – 8:00 p.m., Wednesday, July 1, 2015, in the Langston Street Chapel, Robertson-Drago Funeral Home. The family requests that memorial contributions in Keith's honor be mailed to Ozarks Christian Academy, P.O. Box 1620, West Plains, Missouri, or left with the staff at Robertson-Drago Funeral Home.