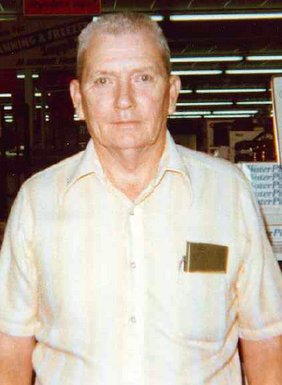 Funeral services for James Joseph Henry, 93, West Plains, Missouri will be held at 2:00 p.m., Friday, January 9, 2015, in the Rose Chapel at Robertson-Drago Funeral Home.
Mr. Henry died at 5:17 p.m., Monday, January 5, 2015, at his home.
He was born April 23, 1921, at Mountain View, Missouri, to James Henry and Leona Green Henry. In 1946 he was married at West Plains, Missouri, to Mary Briggs. Mr. Henry was a veteran, having served in the United States Army. He worked as a police officer for the City of West Plains. Mr. Henry was a member of the Church of Christ and attended the Curry Street Church of Christ.
He is survived by his wife, Mary Henry, of the family home; three children, Alice Henry, Springfield, Missouri, Carolyn Mercer, husband, Steve, Tawakoni, Texas and Ron Henry, State of Nevada; one grandson, Jimmy Henry; two nieces, Edith and Louise; and one nephew, David.
His parents, seven brothers and two sisters, precede him in death.
Mr. Henry will lie in state from 4:00 p.m., Thursday, until service time at Robertson-Drago Funeral Home. Burial will be in the Howell Memorial Park Cemetery. Memorial contributions may be made to Fair Haven Children's Home, and may be left at Robertson-Drago Funeral Home.