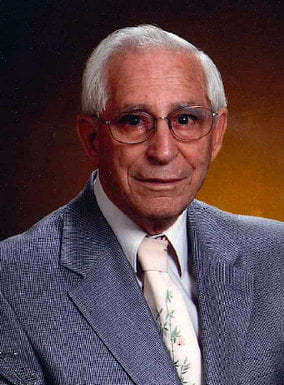 A Memorial Service for Lee Eugene Keck, 90, West Plains, Missouri will be held at 2:00 p.m., Friday, January 9, 2015, at First United Methodist Church.
Mr. Keck died at 9:15 a.m., Tuesday, January 6, 2015, at West Vue Nursing Center.
He was born August 5, 1924, at Bern, Kansas, to Christian F. and Gertrude Ellen Keck. He was married June 19, 1949, at Chapman, Kansas, to Beverly Jean Loy. Lee graduated from Sabetha Kansas High School with the Class of 1942 and served in the United States Army Air Corp. from 1943 to 1946, including a tour of duty as a cryptographer in the Aleutian Islands during World War II. After receiving an honorable discharge, he attended Kansas State University where he graduated with a degree in journalism in 1950. While at Kansas State University he was a member of Sigma Delta Chi, the honorary journalism fraternity and was twice winner of the "K" award for outstanding journalistic work. In January, 1950, Lee and his wife moved to Friend, Nebraska, where he published and edited his first weekly newspaper, The Friend Sentinel. After selling his interest in that paper in December, 1951, the couple purchased the Delaware County Journal in Jay, Oklahoma. He built this small newspaper into an outstanding publication for the County before selling it fifteen years later. On April 1, 1967, Lee and Beverly purchased the Palmyra Spectator and Century Press in Palmyra, Missouri from the Sosey family who had founded the paper and commercial printing business in 1839. It is the oldest weekly newspaper west of the Mississippi River. He wrote a weekly opinion column called "Lee's Side," and was an early adopter of offset printing technology and computers. In 1982 he purchased the Ralls County newspapers, combined the two small papers into a county publication and sold that enterprise in 1992. Two years later he sold the Palmyra Spectator to Mark and Patty Cheffey and continued operating the Century Press commercial printing business until retiring several years later. Lee was a leader in his community. In the 1980's he spearheaded the establishment of the emergency 911 system for Marion County and served on the E911 board. He was a charter member and president of the Junior Chamber of Commerce, and president of the Lions Club, Palmyra Chamber of Commerce and the Northeast Missouri Press Association. He served as president and district lieutenant governor of the Kiwanis Club, co-chair of the Palmyra Sesquicentennial Committee, and was a member of the Marion County Democratic Committee and executive board of the Mark Twain Lake and Cannon Dam Association. He also was a charter member of the Palmyra Chamber of Commerce Industrial Committee, serving as chairman for a number of years. For his support of youth, Lee received the Friends of 4-H award from the Missouri 4-H Foundation, was an honorary member of the Palmyra FFA, and presented the Palmyra Junior Chamber of Commerce Outstanding Service award. He also served on the advisory board of the Girl Scouts, was a member of the Masonic Lodge and an active member and leader of the United Methodist Church.
He is survived by his wife of sixty-five years, Beverly Keck; three daughters and their families, Marsha Keck Deavers, her husband John Deavers, and their son Atticus of Elkton, Virginia, Beth Keck, her husband Ken Leonard, and their daughter Sasha Keck of Bentonville, Arkansas and Beckie Legler, her husband Bob Legler of West Plains and their children Kristin Wages and her husband, Chris of Centerton, Arkansas, Matt Legler and his wife Heather, of West Plains and Eric Legler and his wife Desirae of West Plains; eight great-grandchildren; and one sister, Kathryn Brummitt of Sun City Center, Florida.
Memorial contributions may be made to First United Methodist Church, and may be left at Robertson-Drago Funeral Home.