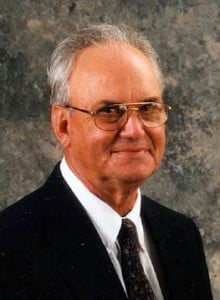 Funeral services for James Lloyd Southards, 88, Sycamore, Missouri, will be held at 10:30 a.m., Saturday, July 11, 2015, at Needmore Church of God, Dora, Missouri, under the direction of Robertson-Drago Funeral Home.
Mr. Southards entered his eternal reward July 7, 2015.
James grew up on a farm during the depression, he learned to value hard work.  He loved God, his family and the Ozark hills.  Throughout his life he was a skilled hunter and loved to fish.  As a young man, he served in the Pacific with the United States Army military police unit during World War II.  While stationed in Hawaii at Schofield Barracks, he was promoted to staff sergeant.  He was largely self-taught and knowledgeable about a wide variety of subjects and could fix or grow practically anything.  At the age of twenty-six, he gave his heart to the Lord, changing the trajectory of his life and family.  He grew to know that the love you have for God and the love you show others is, in the end all that matters.  He was a strong man of faith.  Throughout his life he used his talents to serve others through the church, first at Rock Hill Church of God in St. Louis, then at Needmore Church of God in Dora.  He lived and worked in St. Louis for thirty-six years.  After twenty-five years with Pepsi Cola he retired to his birthplace, the family homestead on Bryant River at Sycamore, Missouri.
He is survived by his loving wife of sixty-six years, Betty Louise Pease Southards; one son, Eddie Southards, wife, Ruth; one daughter, Brenda Proebsting, husband, Fred; five grandsons that he was so proud of, Dr. Eric Proebsting, wife, Kelly, Tim Southards, wife, Shari, Todd Proebsting, wife, Sarah, Reverend Steve Southards, wife, Erin and Ben Southards, As "Papa" took time to instill knowledge and values, he helped shape the fine men they would become; Papa also shared the joy of nine great-grandchildren, his face would light up at the very mention of their names.  He will be greatly missed by his nieces, nephews and all who knew him.  He was a true representative of the "greatest generation".
He was preceded in death by his parents, Luther and Vena Southards and his siblings, Clifford Southards, Fern Tilman and Freeda Smith.
Visitation will be held from 5:30 until 7:30 p.m. Friday, at Robertson-Drago Funeral Home.  Burial will be in the Ball Cemetery.  Memorial Contributions may be made to Needmore Church of God or Ball Cemetery, and may be left at Robertson-Drago Funeral Home.