James Melvin Willard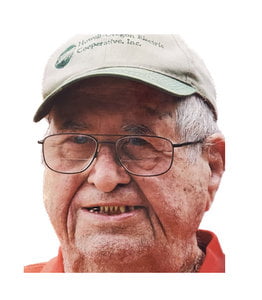 Funeral services for James Melvin Willard, 94, West Plains, Missouri, will be held at 2:00 p.m., Friday, December 9, 2022 in the Rose Chapel at Robertson-Drago Funeral Home.  
Mr. Willard passed away December 5, 2022, at NHC HealthCare.
He was born on May 24, 1928, to Frank and Pearl (Ford) Willard in Cull, Missouri.  On June 11, 1949 he was united in marriage at Salem, Arkansas to Ethel Voorhis, who preceded him in death on January 11, 2011.  To this union two daughters were born; Beverly Louise and Susan Diane.  Jim was a Veteran, having served with the United States Marines Corp at Cherry Point, North Carolina.  Known as Bird Dog, he retired from a long career as a lineman at Howell-Oregon Electric.  Mr. Willard was a founding member of the Heart of the Ozarks Bluegrass Association (HOBA) and enjoyed spending his vacations on Norfork Lake with family and friends.   He will be remembered for his kindness, sense of humor, welcoming home, and love of his family. 
He is survived by his daughters, Beverly Wright (Bob) Alton, Missouri and Susan Lindsey (Roger) Winona, Missouri; four grandchildren, Amy Wright (Jason), West Plains, Missouri, Holly Reese (Blake), Alton, Missouri, Josh Browning (Amber), Squires, Missouri and Sara Wheeler (John) Alton, Missouri; eight great-grandchildren, Jace and Jaylee Reese, Hayden, McKenna, Jeremiah, Anna and Liam Browning and Kayden Wheeler; and several nieces, nephews, and friends. 
He was preceded in death by his parents, wife, two brothers, Herschel and George Willard, three sisters, Marie Wheat, Pauline Collins, and Naomi Dye, and a special nephew, Steven Willard. 
Visitation services will be held from 1:00 until 2:00 p.m., Friday, at Robertson-Drago Funeral Home.  Burial will be in the Oak Lawn Cemetery.  Memorial contributions may be made to St. Jude's Children's Research Hospital and may be left at or mailed to Robertson-Drago Funeral Home, 211 West Main, West Plains, MO  65775.