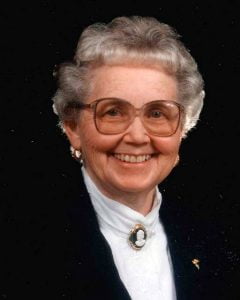 Funeral services for Jean Campbell, 93, West Plains, Missouri, will be held at 3:00 p.m., Saturday, March 25, 2017 in the Rose Chapel at Robertson-Drago Funeral Home.
Mrs. Campbell passed away at 6:50 p.m., Monday, March 20, 2017 at her home.
She was born July 16, 1923, at Amy, Missouri, to John and Iva (Rogers) Hunter.  Jean attended grade school in a one room school at Prairie Grove, walking one and a half miles from home.  She attended high school at Bakersfield, Missouri, graduating with the Class of 1941.  Jean attended her freshman year of college at State Teachers College, Springfield, Missouri, now known as Missouri State University, while working for her room and board.  In the fall of that year, she began teaching school; she taught the lower grades in two room schools, including Brandsville and Egypt Grove.  Jean was saved at an early age and joined the Congregational Methodist Church at Amy Chapel in 1938.  Through the years, she taught classes in Sunday School and Bible School.  She played the piano for church services and for many weddings and funerals.  Jean was a member of a church women's group named the Union Worker, a member of the WCTU Organization, West Plains Artist's Guild and was a Trustee of the Amy Union Chapel Cemetery.  She was also church secretary of the Congregational Methodist Church for many years.  Jean was married to Beach Campbell on April 26, 1944 and went to Vallejo, California with him, where he was employed as a ship fitter at Mare Island Naval Yard building submarines.  She was also employed at the Naval Yard as a clerk typist.  After the war ended, the coupled returned to Missouri where they bought a farm from Jim Scherzer.  There they bought and sold cattle and horses.  To this union three children were born:  Danny, Ann and Jim.  Her daughter, Ann became a flight instructor and taught Jean to fly.  She took her solo flight at the West Plains Airport.  Beach died of cancer in 1989 and in 1990, Jean moved to West Plains to live.  She always had a large garden; she canned and froze vegetables, giving a lot away to friends and family.  Her gardening, oil painting and family were a great joy to her.  While still at the farm, Jean had a large easel made with colored lights above it.  She took her colored chalks once a month to the nursing homes and drew pictures for the residents.  Jean later injured her shoulder and had to give up the program.
She is survived by her son, Danny and wife, Linda; six grandchildren, Nita, Nancy, Dana, Brent, Christopher and Lauren; two step-grandchildren, Casey and Presley Winterberg; seven great-grandchildren, Linnea and Aidan Cornell, Evan Foulke, Michael Scott and Ann-Renee Cawvey, Ava and Jacy Campbell; one sister-in-law, Helen Comer; daughter-in-law, Traci Prenot-Campbell; and many nieces and nephews.
Her parents, husband, son, Jim, daughter, Ann and six sisters, precede her in death.
Visitation will be from 5:00 until 7:00 p.m., Friday, at Robertson-Drago Funeral Home. Burial will be in the Amy Union Cemetery.  Memorial contributions may be made to the Amy Union Cemetery and may be left at Robertson-Drago Funeral Home.