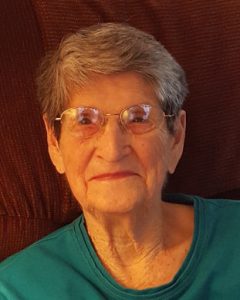 A memorial service for Eugenia Mary "Jean" Claxton Wilson, 95, West Plains, Missouri, will be held at 2:00 p.m., Friday, May 26, 2017 at First Baptist Church.
Mrs. Wilson passed away May 22, 2017 at West Vue Nursing Center.
She was born May 8, 1922, at Olden, Missouri, to Wallace Welby Rice and Ollie Caffey Rice.  Jean was married to Olin Claxton on January 13, 1940 and they were married for 40 years. In later years, she was married to Harold Wilson. Mrs. Wilson retired after working at the International Shoe Company for 34 years.  She loved volunteering at OMC and proudly for thirty years was there every Tuesday and Thursday. In later years when she didn't drive, her dear friends would give her rides so that she could still be part of the volunteer group.  She enjoyed cross stitching quilts and every member of her family has one of them – every daughter, grandchild, great-grandchild, and there are some in reserve for future grands. She also loved gardening and her flowers and was famous for her fried pies and blackberry cobblers.  Mrs. Wilson has been a member of First Baptist Church since 1939 and served as coordinator for funeral luncheons, taught several Sunday School classes and helped keep records..
She is survived by two children, Patricia Jean Claxton Smith, West Plains and Priscilla Ann Claxton Winegar and husband, Jerry, Borger, Texas; five grandchildren, Christopher Michael Collins, Jennifer Claxton Gilbreath and husband, Mark, Zachary Michael Brown, Benjamin Olin Arnold and wife, Heather and Morgan Charles Arnold; eight great-grandchildren, Brianna Patricia Collins, Noel Katherine Collins, John Samuel Gilbreath, Benjamin Zay Gilbreath, Jack Thomas Gilbreath, Sandra "Andi" Grace Arnold, Ireland Raine Webb and Harper Paige Brown; and several nieces and nephews.
Her parents, husbands, one daughter, Sandra Kay Arnold and all of her siblings, precede her in death.
Burial will be at a later date in the Howell Memorial Park Cemetery.  In lieu of flowers, memorial contributions may be made to First Baptist Church Benevolent Fund or West Vue Activities Fund and may be left at Robertson-Drago Funeral Home.